August 29, 2014
DVD Review: Without Warning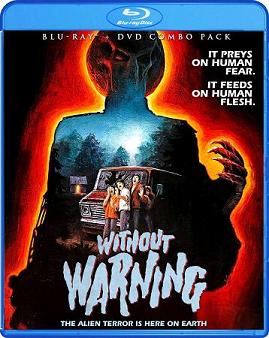 Released By: Shout Factory!
Release Date: August 5, 2014
Number of Discs: 2
Approximate Running Time: 89 Minutes
Special Features: Audio Commentary Track, Interviews, Trailers, Still Gallery
Suggested Price: $26.99
 The Source: Teens taking a day trip to a secluded lake run afoul of an alien hunter and loony locals.  The cast is rapidly whittled down to two survivors who must stop the extraterrestrial invader or join the rest of the body count in his intergalactic trophy case.
 The Fanboy Factor: Seven years before Arnold Schwarzenegger starred in the big budget science fiction opus Predator, Greydon Clark made a litigiously similar low budget film with, in some cases, superior results.  In addition to a nearly identical core plot, both films also star the same actor, the late Kevin Peter Hall, as the alien hunter.  It is obvious someone associated with Predator must have seen Without Warning first and pegged it for a multi-million dollar remake.
 Among the many highlights of Without Warning is a B-movie dream cast headed by Jack Palance and Martin Landau.  Both actors where experiencing lulls in their careers and had recently left starring roles in television series, Palance in Bronk and Landau in Space: 1999.  While a film like Without Warning could be seen as a low point for two such prestigious actors, they give the roles their all and it is obvious they are having fun.  They would also go on a few years later to each win well deserved Academy Awards proving that neither was past his prime.  The supporting cast is filled with a who's who of name actors including Cameron Mitchell, Larry Storch, Neville Brand, Ralph Meeker, Sue Ane Langdon, and Darby Hinton.  If Greydon Clark had been able to add John Carradine and Aldo Ray to this impressive roster he would have had an exploitation cast that was impossible to top!  It's also worth noting that Without Warning is the first film for actor David Caruso who gets dispatched early on but still had bigger things to come professionally.
The crew of Without Warning is almost as impressive as its cast.  Cinematographer Dean Cundey and music composer Dan Wyman had just completed Halloween and were on the brink of becoming major studio talents.  The special effects were handled by newcomer Joe Quinlivan at the start of his long and impressive career which continues to this day.  Quinlivan designed one of the film's most memorable effects, nasty flying creatures that the alien flings at his victims to kill them in a manner very similar to Predator's spinning blade.  While the budget could not accommodate someone the caliber of Rick Baker, the effects legend did contribute to the design of the alien mask which shows a very Outer Limits style influence.
 Without Warning is a fast paced, fun romp that delivers on the suspense and shock as well.  It's surprising some thirty plus years after its release how well it holds up but this is due largely to the strong performance of the cast.  It also doesn't hurt that the excellent special effects are used very sparingly so the audience never has an opportunity to examine them too closely or get bored with them.
The only thing that stopped Without Warning from becoming the cult classic it deserves to be is a disastrous distribution in the United States.  The film was initially sold to American International Pictures in what would seem to be a match made in Heaven.  Unfortunately AIP sold out to Filmways Incorporated shortly after picking up the title and the new company had no intention of distributing horror films (which hazards the question of why they ever bought AIP in the first place).  Filmways only lasted for two more years before they were sold to Orion Pictures Corporation and Without Warning was buried in the shuffle. 
 After a very brief and lackluster release in theaters, the film was discovered by a new audience on late night network television broadcasts and the newly arrived pay cable network, HBO.  The television deals had already been worked out by Clark prior to the sale to AIP but home video was still too new to be a consideration.  Due to a lack of interest and financial complications with Filmways, Without Warning never received a legal home video release in the US until the good folks out Shout Factory finally saved the day!
The Product:  Shout Factory is well known for their outstanding treatment of cult films and their release of Without Warning is no exception.  The transfers used for both the DVD and Blu-Ray disc are the best the film has ever looked.  The movie takes place mainly at night and in dimly lit interiors which previously looked murky but are now filled with detail.  Both discs have the same bonus material which is jam packed with cast and crew interviews, stills, and the original theatrical trailer.  Also included is a feature length commentary with director Greydon Clark that sheds a great deal of light on the film's production.  Shout Factory even includes a reversible insert in the slip case that features the artwork from both of the film's US theatrical releases.
 The Bottom Line:  Without Warning was among my top ten most wanted films on home video (I have been getting by with a rare 16mm print for years) and Shout Factory has released it in a version that can truly call itself definitive.  This DVD / Blu-Ray set is highly recommended for anyone who loves low budget science fiction but almost everyone will find something to like here.