November 23, 2014
Fanboy Expo 2014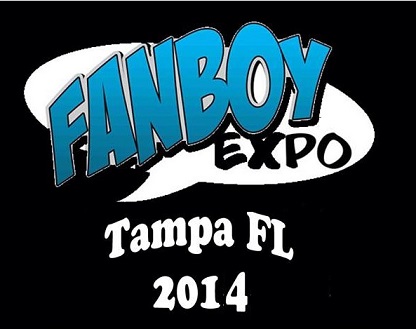 I am always up for trying something new where conventions are concerned, especially given the disappointing stagnation many of the Florida shows seem to be in these days. I was sold on Fanboy Expo thanks to both the appearance of Lee Majors and Richard Anderson, best known for The Six Million Dollar Man television series but each have a list of credits a mile long, and my friend Anthony Lopez wanting to attend.  Neither Anthony nor I had been to a Fanboy Expo before, even though this was its third year in Florida, so since we are both big fans of The Six Million Dollar Man, we decided this was the year to give it a try.
The 2014 Fanboy Expo was held at the Downtown Tampa Hilton on September 12-14. A review of the information on their website made this look like strictly one day's worth of activities so we decided to attend on Saturday and just pay $20 for the single day admission.  As soon as we had our plans set, I floated the idea to a few friends but it wasn't met with much enthusiasm due to timing, location, and various other factors.  As the event approached though, things changed, and at the very last minute we were joined by Aaron O'Laughlin from Jacksonville and Sean McFadden from Winter Haven.  This required some hasty eleventh hour reshuffling to fit everyone in but the final result was like an old college road trip with a car full of friends heading for new adventures!
Anthony, Aaron, and I left Jacksonville early on Saturday morning and headed south. Anthony was decked out in one of his father's old 70's leisure suites that looked just like one of the outfits for the Six Million Dollar Man action figure from the same decade!  We stopped just off the interstate in Haines City and picked up Sean for the final leg of the trip down.  When we finally got to the hotel, located in downtown Tampa which is always a pain to get around in, we had to park several blocks away due to the poorly marked and/or insufficient parking.  Thankfully it was still early and not raining so the hike back to the hotel wasn't too bad.
As we reached the hotel entrance, Aaron decided to part company with us. He was disappointed that guest Richard "Jaws" Kiel would not be at the show due to passing away the previous week (the best excuse I have ever heard).  Instead, he had decided to wander around the local countryside in search of adventure and alcohol and told us to call him when we were done.  Reduced to a trio, our remaining band kept our eyes on the prize and headed upstairs to the admissions table.  It was about an hour into the show when we arrived and there was a small line of about fifteen confused people in front of us.  Apparently no one knew where to go to purchase tickets versus picking up prepaid ones and signage was in short supply.  When we finally reached our turn, we found they could only accept cash, which fortunately wasn't a problem for us but appeared to be for a few other potential attendees.
After finally securing our tickets (so we thought), Anthony headed to a "bionic" panel with Lee Majors and Richard Anderson while Sean and I checked out the celebrity and merchandise areas.  I had purchased something called a "bionic fan package" that included autographs from Lee Majors and Richard Anderson, a professional photo with the duo, and a mini poster.  I was also supposed to receive a special badge for this but apparently someone couldn't count how many packages they had sold and I was told they ran short.  As a consolation prize, I got a generic card on a lanyard that was destined to cause confusion later in the show. I had originally been on the fence about buying this package since it didn't seem like much of a deal at $140.  At this time, I had been told via E-mail from the show's website that Lee Majors was charging $40 a signature but Richard Anderson was only the more standard $20.  At the show though it turned out both actors were charging $40 to write their names so I had made the right decision.
The vendors' area for the show was surprisingly small for the scale this event seemed to be projecting.  On top of that, most of them were only carrying modern ephemera rather than real collectibles.  Even though I have very little interest in these modern trinkets, I am familiar enough to know what the going rate is on some of these items.  It never ceases to amaze me these days that almost any of the newer merchandise I see at shows can be found cheaper online even with shipping costs factored in.  Obviously these vendors are playing strictly to the wow factor of seeing an item in person or the need for instant gratification.
The b-list celebrities were located in the same area with the vendors while the upper echelon was across the hall in their own section.  Sean got a couple of autographs from minor Walking Dead actors while we were here and I took the opportunity to have my original movie poster for The Hills Have Eyes signed by star Michael Berryman, whose image it prominently features.  I had meet Berryman before at other shows but didn't have this iconic poster at the time.  As often happens, we struck up a conversation about how seldom original pieces like this turn up these days and from there the conversation somehow shifted to modern healthcare reforms!  Berryman, whose father was a Neurologist, was both well informed and opinionated on the subject and great fun to talk with.
While Sean continued to browse the merchandise, I went over to the panel room to find Anthony.  The Lee Majors / Richard Anderson panel was just wrapping up when I got there and their photo session was scheduled next.  Anthony had been unable to purchase a fan package like I did since they were not selling them at the door, so he had to settle for a full price photo instead.  As we approached the photo area, it became obvious no one was sure exactly what to do.  People who had purchased the fan package were supposed to receive priority line placement but everyone was just milling around confused.  Finally someone from the show came out and decided which side would be which and we dutifully fell in line.  After finally convincing them that my generic badge was for the fan package, we were told that our supposed priority placement only meant that two people from our line got to get photos for every one person from the other so we weren't really that prioritized.
When I finally reached my turn for a photo, with Anthony not too far behind me in the "regular" line, I was told to stand on a mark in front of my two idols who cheerfully introduced themselves and shook my hand.  It quickly became apparent that, in my current position, I was going to dwarf these two gentlemen in the photo and they were the selling points, not me.  While the photographer was adjusting his camera, I slipped behind the bionic duo and put my arms around them so they could be in the forefront for the photo.  A couple of quick snaps later, I was on my merry way and Anthony popped out just a few minutes behind me in spite of his lack of priority!
We rejoined Sean in the merchandise room and made another pass of the goods to kill a little time until our photos were ready.  It didn't seem like I had missed much the first time and nothing was talking Anthony out of his money.  He did get a couple of Superman II gum card autographed by Jack O'Halloran who played the Kryptonian villain Non.  Afterward we went to the A-list room so I could get my poster signed by Lee Majors and Richard Anderson.  The lines were not very long for either guest so my priority status didn't do me much good here either.  I approached Majors first and as he was signing my poster I showed him an autographed photo of him I acquired in a personal collection I had purchased.  Much to my relief, he verified that both his signature and that of the late Arthur Hill with whom he co-starred in the television series Owen Marshall, Counselor at Law, were the real deal.
While I was getting my signature from Lee Majors, Anthony went to Richard Anderson's table to get a picture with the television icon.  He was immediately told by Mr. Anderson's assistant that photos taken with the celebrity cost $10.  Anthony produced a letter he had sent to Anderson a few weeks earlier to where the star had said he would take a photo with him for free.  Apparently the assistant wasn't pleased with this and indicated that all types of hate and discontent would ensue if these rules were not followed.  Before Anthony had the time to protest, Anderson reached into his pocket and handed the assistant a ten dollar bill and said "now let the guy get his photo".  In my book, that is a real star!  Later that day when I got my signature from Richard Anderson, this same assistant was being very short with him about the particulars of his autographing and the speed at which he was doing them.  Considering the fact that there was never more than ten people in line for him any time I was in the room, I couldn't understand this and Mr. Anderson certainly seemed like an old pro at the game when he signed my poster.  I made a point of taking my time talking to him and complimented him for one of his many outstanding roles as the lead villain in the second Kolchak television movie, The Night Strangler.
When we finished in the guest room, Anthony and I stopped next door and picked up our photos which were finally done.  My photo looked pretty good but Anthony's turned out red for some reason like the color balance wasn't set right.  Considering what he paid for it, it should have looked better.  We met Sean in the hall and came to the conclusion that we had done everything we set out to do so it was just about time to phone Aaron and head out.  Sean wanted a photo with one of the wrestling guests so I made one last trip through the merchandise room and finally decided to pick up a complete loose Mego Batcave playset from one of the few vintage dealers before calling it a day.
Aaron met us in the lobby shortly thereafter and our reunited band hiked back to our vehicle.  We were all starved by this point except for Anthony who had brought a peanut butter sandwich for himself but not enough to share!  Sean was able to guide us over to a nearby section of restaurants outside of downtown and we had a fantastic lunch at a Mexican place called Lime.  I was afraid I might fall asleep at the wheel after our feast and wisely left the alcoholic beverages to my passengers.  In a reverse but much more organized fashion, we got Sean back to his car in Haines City and then Aaron, Anthony and I departed for Jacksonville.
For my first time attending Fanboy Expo, I would have to rate the show a pleasant diversion but by no means a must see.  Like so many shows these days for me, the value in attending rests squarely on the guests.  Merchandise selection is unreliable at best and most of the tangent activities don't interest me.  The fun of this show was equaled, if not exceeded, for me by getting to hang around on a road trip with my friends, especially Anthony and Sean who I don't normally get to spend a lot of time with.  I would certainly consider going again in the future but only if the guests and the company are of the same quality as this year.