July 31, 2014
Happy Together Tour 2014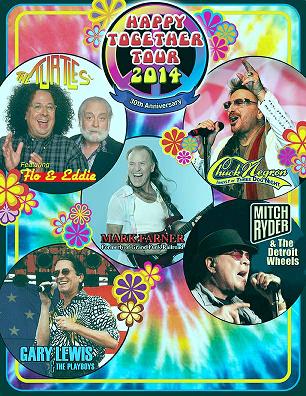 It never ceases to amaze me how the Happy Together tour manages to consistently put together such and entertaining and diverse line up of "oldies" acts year after year.  I have been following the tour for years and while there have been some ups and downs over that time, the shows have always been fun and entertaining.  The 2014 tour lineup is no exception and it's obvious they have worked this concept into a well-oiled machine. 
I had the pleasure of catching this show at one of my favorite Florida concert spots, The Peabody Auditorium in Daytona Beach, on June 15.  The Peabody is a great place to see any concert but they really go out of their way to make the Happy Together tour (aka Hippifest) something really special that stands out from their other engagements.  The theater is covered with 60's themed decorations and even the staff gets into the act wearing love beads and peace signs.  The best part is the street fair which features everything from tie-dye shirts to music memorabilia to vintage automobiles.  Even if you didn't want to see the show, the street fair is free to the public and features local bands playing classic tunes.
This year's show kicked off with Gary Lewis, son of famous comedian Jerry and front man for the group The Playboys throughout the 60's.  While it seems historically that the Happy Together tour has opened with some of their weaker acts, Lewis was something of a shocker.  All of the artists on this tour are in their 60's so some understandable allowances have to be made for them not sounding as good as they did 40+ years ago.  Gary Lewis is a unique exception who in many ways sounds better now than he did in the 60's.  While he possesses a very respectable singing voice, it was heavily overdubbed in the studio for the majority of his recordings to give it a slicker sound.   Hearing him live all these years later, he actually sounds cleaner and more powerful than he did on the original recordings.  It was great hearing him cover the hits like This Diamond Ring, Count Me In, and Everybody Loves a Clown while also working in a few less well known numbers like my personal favorite, Sure Gonna Miss Her.  The evening was off to a great start.
Next up was Mitch Ryder who tore the music charts up in the 60's with his backing group The Detroit Wheels.  Ryder's voice is noticeably weaker these days but since he was always known for a gruff, bluesy sound, he still gives a good performance.  Ryder seemed to be the most laid back of all the artists on the bill and spent much of his stage time telling anecdotes from his long career.   He still managed to find time to get the audience hopping to the sounds of Devil  with a Blue Dress On, Jenny Take a Ride, and Sock It to Me-Baby, which could have been a late sixties anthem! 
Any audience members who were in a lull from Ryder's performance were snapped back into reality when Mark Farner, former lead singer of Grand Funk Railroad, which just barely makes the cut by being formed in 1969, stormed onto the stage and remained in constant motion for the next twenty minutes!   During this time he belted out all of the bands major hits including their biggest seller, We're an American Band plus Bad Time and Some Kind of Wonderful.  He also included the rather incongruent but none the less popular 1974 cover version the band did of Little Eva's The Loco-Motion.  By the time he finished his set, Farner was drenched in sweat and the audience was wide awake!
Following a brief intermission, the show continued of one out three of Three Dog Night, Chuck Negron.  With 21 top forty hits during the group's career, Negron had plenty of material to choose from for his set.  This, of course, included the major hits like Mama Told Me Not to Come, One, and Joy to the World, the latter of which made for a great audience sing along.  His closer for the evening was a more personal song, the top 10 hit Eli's Comin'.   I have seen Chuck Negron in concert many times and he always impresses with his ability to hit the gut wrenching high notes in this song without seriously damaging something!  Time or good sense must finally be catching up to him because he turned over the really difficult parts to the backing band this time but still managed to belt out the rest with great enthusiasm.
Speaking of the backing band, Happy Together's musical lineup, led by the incredibly multi-talented Godfrey Townsend, just gets better every year.  It would be impressive enough if this group just had to emulate the sound of one well known 60's group but to flawlessly pull of the disparate styles of no less than five is a truly staggering accomplishment.   New addition Steve Murphy who handles the drums also did some knock out vocals throughout the show.  This included sharing the ear splitting opening of Eli's Comin' with Townsend which more than proved his worth in this awesome collection of musicians.
The closer for the Happy Together show was the usual but still highly anticipated performance of The Turtles featuring Howard "Flo" Kaylan and Mark "Eddie" Volman.  This demented duo always entertains and amuses the audience, which is no small feat considering the roster of talent they have to bat cleanup for.  In addition to being talented performers, Kaylan and Volman have also been the brains behind the Happy Together tours ever since they hit on the idea some thirty years ago.  Their set consisted of a cross selection of Turtles' hits (they had more than a few) including She'd Rather Be With Me, You Baby, and one of my favorite songs of the 1960's, the hauntingly kitsch ballad Elenore.    Of course they wouldn't be able to leave the stage in one piece without capping the performance with the show's theme, philosophy, and namesake, not to mention one of the group's biggest hits – Happy Together.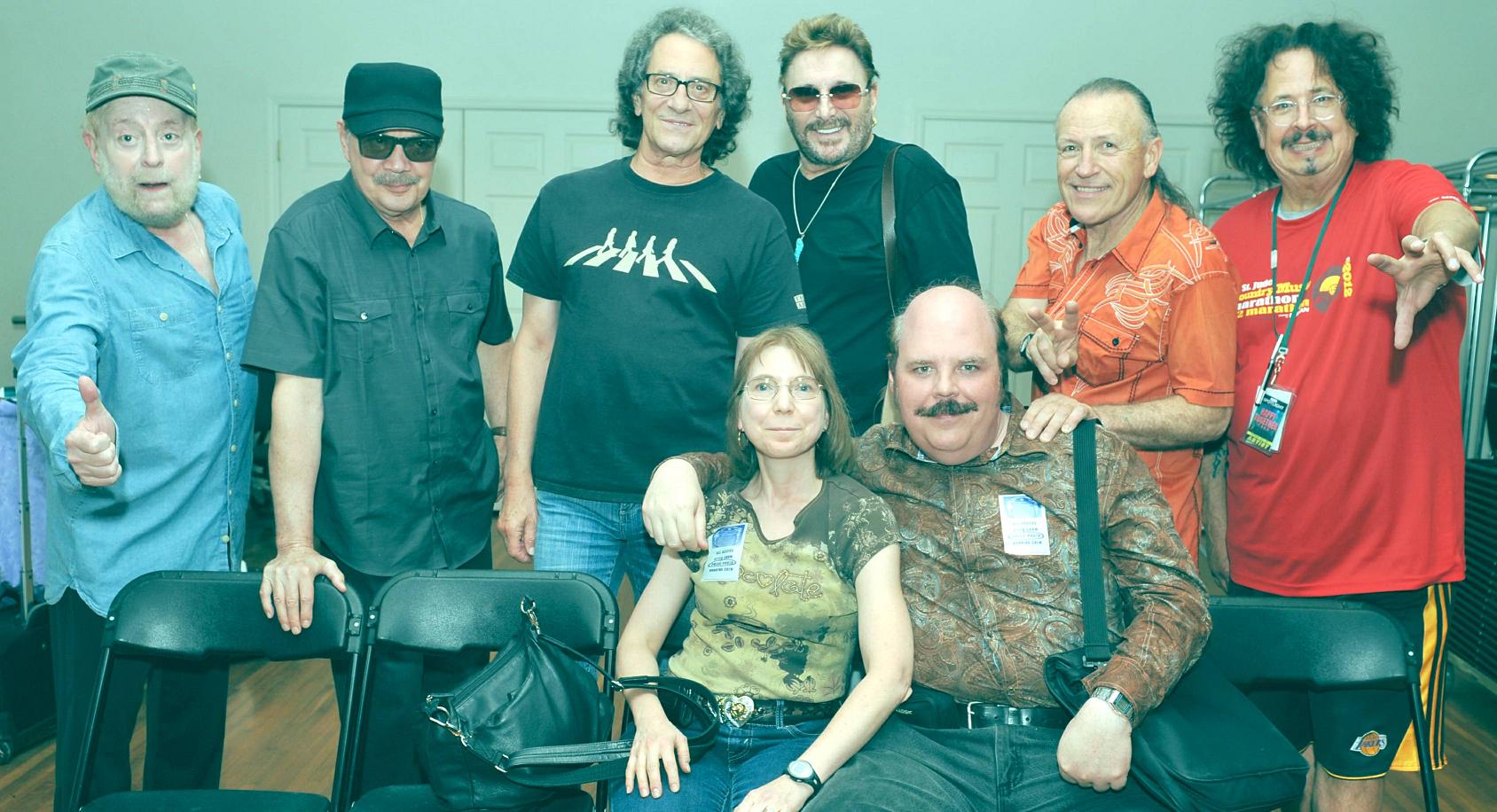 After the show, road manager Ron Hausfeld had a little photo opportunity planned backstage for invited guests and the tired but still cheerful performers used the last of their energy for the evening visiting with fans.  After having attended this show since 2009, I finally managed to corner Howard Kaylan and talk to him about the thought process behind this tour.  The 67 year old performer, who admitted that by the time these shows are over he is deservedly ready to retire for the night, still took a few moments to clue me in on what they look for in their ever changing roster of top notch entertainment.  Kaylan said that their criteria for acts for the tour boil down to two elements.  First, they have to have at least enough well know, top 40, hits to fill a 15-20 minute set.  Second, and in some cases the more difficult hurdle, is that the artist must be willing to work with a backing band rather than their own musicians even if they are the original group.  While these may not be the easiest goals to meet, they clearly work and make for an incredibly entertaining show I look forward to year after year.