April 5, 2013
Megacon 2013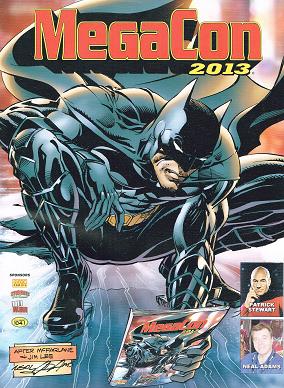 As a regular attendee of the Megacon convention in Orlando, Florida I have seen it go through many changes in the last decade.  Some of these changes have been for the better and some for the worse and many of them were dictated by the changing tastes of fandom.  2013 was the year I finally had to accept that the emphasis has permanently shifted away from guests but fortunately the merchandise seems to be increasing in variety and the show appears to be becoming more accessible to smaller vendors which I can appreciate.
This year my friend Dan Tuchmann joined me on the trip to Orlando as my faithful photographer to document the malay that is Megacon.  Dan has attended the show a few times in the past but not in recent years so even he was surprised by how the show has grown.  We arrived at the Orange County Convention Center about 9AM on Saturday morning, March 16, allowing plenty of time for parking and getting in to the actual show.  Admission this year was holding fast at $25 per day or $60 for a weekend pass.  We made it inside with enough time to spare to get a few photographs of the always impressive displays and query a few of the vendors before the doors opened to the general public.  As we were making our way around the huge hall, an overhead voice kept warning that the general admission opening time of 10AM was looming ever closer.  It seemed like it was actually a couple of minutes early when the announcement was made that the doors were open and a sea of fans came pouring through the doors, many at a running pace to get somewhere before their perceived competition.
After allowing the initial tide of customers to subside, Dan and I headed over to visit with some local comic book vendors including Joe Peace of The Comic Book Connection and Tom Raup of Tom's Comics, who were both primed and ready for action.  Right around the corner from them, I ran into Tomorrow's Treasures, a New York based comic company who I had made a major score with last year.  Unfortunately they decided to concentrate more on higher end comic books this year and did not bring the lesser issues I had done so well with last time.  This didn't put me out of the running entirely with them though as I did find a couple of key issues I needed at reasonable prices.  This included my purchase of the show, a Silver Age Hawkman#8 which completed my run of that series.
 Last year I had noted that Megacon had done an excellent job of segregating the dealers between comic books, anime, and other merchandise.  This year the lines had begun to blur again although there was still some semblance of division.  One of the Golden Age dealers I spoke with said that many of the comic book vendors were unhappy last year with everyone being in the same area and preferred to be spread out to minimize competition.  I can see where this would be a benefit to the dealers but with a show the size of Megacon, which could easily be divided up into three distinct and separate events, there is also the possibility of being overlooked by potential customers if vendors are not grouped together.
After having been warned about the spacious layout, I decided to head to the opposite end of the hall to see if there were any comic book dealers I had missed.  I checked out a few tables and then ran across Vizion Comics from Miami.  I was impressed by their selection of Silver Age DC titles but they had committed one of my greatest irritations by not pricing anything.  I will often pass up vendors because of this but their selection had rapidly gotten the better of me.  Before I invested too much time in what could be a lost cause, I pulled a few sample issues and asked for the prices.  The proprietor, also named Ed, took a quick glance at the half dozen or so issues I had selected and off handedly said "these are three dollars each".  After waiting a minute to see if I had heard him correctly or if he was going to change his mind, I dove into the boxes with both feet and didn't come up for air until I had a stack of close to 70 comic books!  Ed flipped through these; removed three issues that he said would be $10 each and then announced that the remaining stack would be, you guessed it, $3.00 each. 
In the end, I purchased one of the $10 issues, Flash #111 which was seven issues in to the Silver Age run, and managed to do a little bit of negotiating on the already reasonable prices due to the quantity I was buying.  I also found out that these were all part of a very recent acquisition and Ed had not had time to price them before the show.  Among the gems in this pile were issues of Wonder Woman that dated back to 1958, numerous twelve cent World's Finest Comics, and a very nice selection of giant sized Batman collections.  I walked away from the table with my satchel literally about to burst from all the books stuffed inside and made a mental note of where I am headed next time I visit South Florida!  I had purchased a total of 65 comic books and already felt that my trip to Megacon this year was well justified and it was only 10:45AM!
Dan caught up with me a few minutes later and informed me that legendary comic book artist Neal Adams was a guest at this year's show.  I could count the number of living comic book professionals I would care to meet on one hand, so I seldom bother to check this section of guests at shows and I was certainly stunned by this revelation.  Apparently Dan had known this in advance and just not mentioned it to me as he had brought along some magazine ads Adams had drawn prior to entering the four color arena and already had them signed.  Since I was unprepared for this situation, I had not brought anything to have signed but thankfully I was in the land of vintage comics.  I wisely headed straight back to Joe's table and he was able to hook me up with two issues of the 1970's Green Lantern / Green Arrow DC series that Adams is famous for.  I was rather surprised when I got to Neal Adams' table and only saw a couple of people ambling around.  I took the opportunity to speak to him for a few minutes and could not resist telling him that he was one of the first comic book artists whose work I learned to identify on sight as a child.  He asked me who the others were and the only other person I could honestly think of from those days was Jack Kirby.
Speaking of show guests, this was another lackluster year for me from a media standpoint.  The lion's share of Megacon's guest budget this year went to reuniting most of the cast of Star Trek: The Next Generation, a show I was never that fond of and the majority of whose actors have appeared at various Florida events over the recent years.  The one exception to this was star Patrick Stewart but if I was unwilling in the past to pay William Shatner or Leonard Nimoy $65 to write their names, there was no way he was getting $85!  The rest of the guest list included people who had been there multiple times before and, with the exception of Dean "Lois and Clark" Cain, the lack of anyone at their tables reflected this.  On a humorous note, Buck Rogers himself, Gil Gerard, apparently couldn't even score a free table in the guest area this year and was relegated to one of the vendor tables.  Sometimes you just have to realize when something is played out and move on!
After spending some time admiring the impressive costume displays, Dan and I realized it was time to meet some friends for lunch.  This was essentially the same gang I had hooked up with at the show last year, Richard Blair and his family and Ken Fees.  We had only crossed paths with them fleetingly throughout the show but we did manage to set a time to exit for lunch.  After a brief conference, we agreed on the excellent Italian restaurant Maggianos which was just down the street from the Orange County Convention Center and set off for our vehicles.
 Reconvening at the restaurant, we compared battle stories from the con and our personal spoils of war.  Richard and his wife Connie had bought some costume pieces including a leather coachman's hat and corset.  Richard's son Patrick had his eye on a custom outfit from one of his favorite science fiction shows, Babylon 5.  Dan had shelled out for a couple of comic books for Neal Adams to autograph including a great looking issue of Strange Adventures with Deadman on the cover.  We all agreed that from a merchandise standpoint this had been a good year.
Following lunch, Richard and company headed back to Megacon for round two while Dan and I decided to hit a few local businesses and then set out for home.  I got a call Sunday morning from my old convention crony Byron Rocher, who has been MIA from shows for several years.  He surprised me by telling me he was in line for the Sunday session of Megacon but I informed him I had already had my adventure there the day before.  Even though he was not as impressed with the merchandise selection this year as I was, Byron still managed to get a pretty good deal on a sizable gaming purchase from a local Orlando store that was set up at the show.
While I have to confess that I would still like to see the guest list at Megacon improve with repeat attendees minimized and more variety, especially where older movies and series are concerned, with a show this size I can easily live without the added expense of autographs.  It was nice to see some smaller dealers present this year since they will often make more of an effort to deal on prices.  My emphasis may have had to shift to merchandise to stay with the times but a show like Megacon is still more than worthwhile no matter what you are looking for.