March 8, 2004
Megaconned Too
For those keeping score, 2004 is now my third time at bat for Megacon, the giant comic book / media convention in Orlando. Please see last year's review for my philosophies regarding comic books, autographs, and "celebrity" status, if you need a primer prior to reading this year's review. This year my crew consisted of Byron Rocher, Donovan "The Poster Man" Johnson, and Pat Butler. Byron and Donovan are old hands at these shows but Pat was a newbie with extremely minimal leanings in the science fiction and fantasy fields. This made Pat an interesting barometer for the proceedings or the fanboy equivalent of a designated driver. His basic opinion of the con was that he got to see a few things that interested him and a lot of weird stuff he never wanted to see again!
I found this year's show to be more enjoyable overall than 2003. The "celebrities" seemed much better behaved and the production was a little more organized. The main reason the show seemed to have improved this year may have just been from our learning from our mistakes in the past and not repeating them. The quality of the merchandise this year was down in my opinion. The comic book selection was still very impressive but just not as good as in the past. Bootleg DVD and video dealers, which were prominent last year, had spread to near epidemic proportions this year. While I really don't purchase much from these types of vendors, the DVD market is just too dynamic to me to buy inferior product, I don't particularly mind them. The one thing that does bother me though is how many bootlegs I am starting to see for items where legitimate product is readily available. It's one thing to have the opportunity to purchase a favorite rare movie or television show that has never been released to the public or has been unavailable for many years. Marc Singer, "Beastmaster", in person, looking a little different from the hunk everyone remembers,
signing autographs. It is another proposition all together though to be selling films available in any Best Buy or a series currently being shown on television. At $15-$25 each, these bootlegs are often priced above their legitimate counterparts. I hope some better policing, either internal or external, is done in the future before these less scrupulous vendors ruin it for everyone. The guest list this year seemed to be more focused than in the past (i.e. all related to the general themes of the convention), which appeared to translate into happier fans and better moods for the guests who were making more money. Attendees included Brad Dourif, hot off his successful turn in Lord of the Rings, Noah Hathaway and Herbert Jefferson from Battlestar Galactica, B-Movie actor Kenny Miller, whose huge booth sign made sure you knew who he was even though I didn't see anyone get an autograph, Brian Thompson, the alien bounty hunter from the X-Files, and Glenn Shadix from Beetlejuice. Now the moment you have all been waiting for. This year, the first annual "Gil Gerard Award for Most Haggard-Looking Celebrity at a Convention" goes to, drum roll please, Marc Singer! The cult film and television actor from the V series and Beastmaster films now looks more like The Creasemaster!
The big treat for me this year was the surviving cast of my favorite television show Lost in Space. I have met everyone from the show over the years except for Bill Mumy and Angela Cartwright. Ms. Cartwright was an absolute doll – friendly, accommodating, and looking very well for her years. Judy may have been the babe daughter on the show (and Marta Kristen still looks good too) but Penny could give her a run for her money these days! Bill Mumy
was very professional but seemed rather disinterested in the entire proceedings. I brought a one sheet of the highly underrated Stanley Kramer film Bless the Beasts and Children for him to sign. To the best of my knowledge this was Mumy's only starring roll (at least he received top billing even though the late Barry Robbins is really the lead), but he hardly said more than "where do you want me to sign". In all fairness, it was early when I went by his table and he could have had a late night or taken too much cold medicine. The rest of the cast were their cheerful, amiable, selves though and Mark Goddard could probably write a book on the correct way to be a celebrity guest.
In the "Nobody Told Me You Were Going To Be Here" department, I went wandering down an aisle and nearly tripped over Ken Foree. The cult actor from the original Dawn of the Dead (who also has a cameo in the sequel), Texas Chainsaw Massacre III, and From Beyond was at a table in the dealer's area with Walter Koenig (Mr. Chekov from the original Star Trek). According to Mr. Foree, they decided to attend at the last minute but I'm still a little peeved Megacon didn't at least get it up on their website (which I was checking daily for cancellations). Even though I missed an opportunity to have my Dawn of the Dead one sheet signed by my favorite character in the film, it was still great to spend a few minutes with the incredibly friendly Mr. Foree discussing the new movie. In spite of the logistics problems, Ken Foree always seemed to be crowded when I went by his booth, but Walter Koenig looked bored and lonely.
Donovan's favorite guest was Virginia Hey from the second Mad Max installment, The Road Warrior. I waited with him so I could take a picture for him and I couldn't help noticing how much her table looked more like a flea market booth. In addition to the expected photos, she was also selling sketches, purses, and perfume! For $40 you could even go to a Virginia Hey meditation workshop after the show. Had I known it was $40 at the time, I would have insisted on going back later that day just to see how many people attended. When it came time for Donovan to get his photo signed, Ms. Hey asked him how he wanted it inscribed. Feeling even more sarcastic than usual, I immediately said just make it out to eBay! She seemed a little confused and befuddled as I tried to explain to her that it was a just a joke. I took a photograph of Donovan with her and we departed. Later in the car, Donovan showed me the picture and we realized she had actually written "To eBay" on it, then crossed out eBay and written Donovan!
The other guest highlight for me was character actor Sid Haig. Best known these days for his scene stealing, make that film-stealing, turn in Rob Zombie's House of 1,000 Corpses, Haig has appeared in countless exploitation films including Jack Hill's Spider Baby and almost every "Women in Prison" flick ever made! Mr. Haig was friendly, talkative, and very open about his career path and even his opinions on celebrity shows (which he referred to as his current cottage industry!). Thanks to the quick thinking of Donovan, I now have a fantastic movie poster from Corpses with an inscription from Haig that can't be repeated (hint: it's his line from the film's opening minutes during the hilariously botched robbery attempt).
As I said earlier, the comic book selection this year was not of as high a caliber as it has been in the past, particularly where the silver age is concerned. I noticed more newer comics and items I don't really consider as rare or key issues being displayed on the backboards. There were also few dealers with unbagged comics, soiled magazines and sun yellowed VHS tapes that looked like they just wandered in from a garage sale. Prices showed a minor increase but there were still a few good deals to be had. This year I tried to gravitate towards pre-1950's golden age comics and netted one issue of All American (Green Lantern) and four issues of Jack Kirby's Boy Commandos at extremely favorable prices. There are not many comic book artists that I would be interested in getting autographs from (and the list gets shorter almost every day, goodbye Julius Schwartz) so I tried to steer clear of that area.
After several hours of walking, schmoozing with guests, and digging through comic boxes, we were all tired and ready for our traditional lunch at Darryl's restaurant on International Drive. It was a pleasure to meet Joshua and Clayton for the first time and to get to see Nolan, Will, and Scotty again. After a two-hour lunch we adjourned, at Will's excellent suggestion, to a local hole in the wall bar called the Big Bamboo. What looks like an abandoned quanza hut from World War II, turned out to be a colorful little dive loaded with more charm than we could take in during a single visit. Our Fanboy Summit Meeting was a delightful few hours of reminiscing and sparking flashbacks that I am still trying to follow up on. The psychic connection in that room was as strong as steel and tempered by an intriguingly powerful white liquor concoction named, appropriately, The Big Bamboo!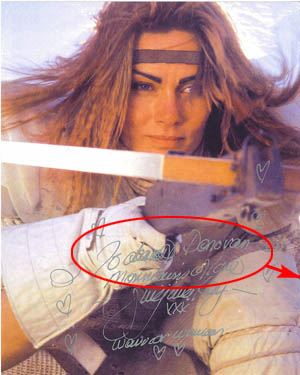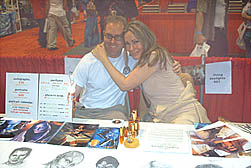 Megacon 2004 was pretty much everything you could ask for from a convention these days – a few good deals, a few good stories thanks to some good guests, and a few good friends. Hooking up with Nolan and company increased the fun exponentially and was definitely the true highlight of the event for me. Picking up a few Jack Kirby comics from the 1940's without mortgaging my house was a welcome bonus. In my review of the 2003 Megacon, I pointed out that these cons are what you make of them. You have to understand the deal and work within the limits. This year I think we followed this advice, were better prepared to cope with it, and had a better time for our troubles.
Admission to Megacon, $15 in advance, cost of a celebrity autographed photo, $20, getting Virginia Hey to sign Donovan's photo "To eBay", priceless!

The signed photograph at left and close-up, below, featuring the "To eBay" mistake! Read story above for details. Picture at above right shows Don and Virginia settled things nicely.