May 18, 2012
Premier of the Astro-Zombies!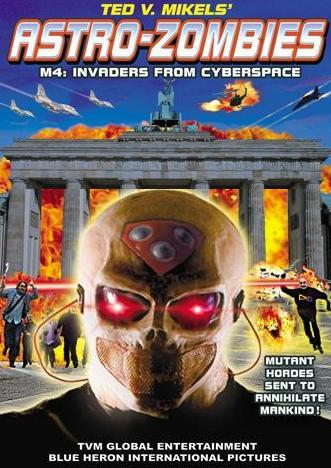 A little over a year ago in March of 2011, Alex Ojeda and I headed down to New Smyrna Beach, Florida to join the crew of Blue Heron International Pictures in filming some of the second unit scenes for cult director Ted V. Mikels' latest movie, Astro-Zombies M4: Invaders from Cyberspace.  Later, in October of that year, I was privileged to see a rough cut of the film in the director's Las Vegas home but it was still missing many of the special effect shots at that point.  After much anticipation, the finished film was finally unveiled on Saturday, April 28, at a special pre-premier event  in Daytona Beach.
 The Cinematique of Daytona is a relatively new theater but it is working hard to develop a cult film reputation.  In addition to programming many independent films that the major multiplexes overlook or lose in the shuffle, this small art house venue played host to a triple showing of the newest Astro-Zombies film.  At 6PM, a free screening was held for the local cast and crew and then two paying shows were open to the public at 8PM and 10PM.  There was even a Q&A held after the final performance courtesy of Gary and Richard Lester of Blue Heron.
In eager anticipation of watching our thirty seconds of fame as victims of the Astro-Zombies on the big screen, Alex and I headed down to Daytona from Jacksonville on Saturday afternoon with my wife Cindy and friend Aaron O'Laughlin in tow.  We took a brief detour for dinner on the way into town and then made a bee line straight to the theater.  We had been warned that it would be a standing room only crowd for the first showing and, while we had reserved our seats months in advance, it was first come, first served on location. 
 As it turned out, almost everyone arrived early but it gave us a chance to catch up with everyone for a few minutes before the show.  Producer Richard Lester was busy getting everything in order including a surprise birthday cake for actor John Martino.  The day after the event was Ted Mikels' 83rd birthday so the audience was treated to two cakes that evening.  In addition to Richard, we also saw director Gary Lester, collectibles dealer Jim Cara, who has a brief cameo as a reporter, and his wife Lisa, who has a larger role as a scientist, and actor Scott Marlow who played a homeless man in our scenes.  Scott looked considerably different at the premier sporting a stylish tux!  Another Scott, Scott Blacksher, from the Vegas shoot just happened to be visiting his mother inFlorida the same week as this screening so I got to meet this veteran of multiple Mikels' films for the first time.  We were even introduced to the two rats that play the pivotal roles of research subjects in the new movie!
The crowd was ready to roll by the time Cinematique President Stephanie Mason-Teague took the stage to welcome everyone and start the introductions.  Richard Lester followed her with a few announcements of his own and then the theatrical presentation began.  First up was a short film shot in Spain, Zombie World, which put a twist on an age old plot gimmick and had zombies contracting a mysterious infection and turning into flesh eating humans!  Unfortunately this was about the only unique note in the film but being a short it didn't have time to wear out its welcome.  Next were some vintage drive-in spots that helped to set the mood, followed by a personal introduction by Ted Mikels.  The spry octogenarian proved that he is still a talented ventriloquist as two of his dummies helped him usher in the main event.  It was finally Astro-Zombie time!
 
Astro-Zombies M4: Invaders from Cyberspace is the fourth installment in this film franchise that dates all the way back to 1968.  In the original film, mad scientist John Carradine uses his solar powered synthetic humanoids, originally created for the US space program, to exact revenge.  Thirty-four years later in the first sequel, Mark of the Astro-Zombies, aliens resurrect the creatures and use them in a plot to take over Earth.  In Astro-Zombies M3: Cloned (2010), the corpse of one of zombies from the previous film is cloned by the government in the hopes of creating a super soldier.  While the films may be connected by only the most tenacious of plot threads, the one common element is that a bunch of synthetic psychos always get to run around killing people.
 The new film maintains an equally loose grasp with its predecessors.  After very brief sequence of flashback scenes from previous films, we are introduced to an entire planet of Astro-Zombies!  It seems the home world of these murderous mutants is about to be destroyed by a wayward asteroid that is rapidly approaching and they have picked the Earth as the only viable substitute.  Since friendly negotiation is not in their repertoire, the Astro-Zombies decide to send advance troops to Earth to thin out the human population with the lasers that shoot from their eyes!  It seems these creatures can travel through cyberspace and materialize on Earth through any computer device.  Humanity scrambles to discover a way to combat the seemingly invincible invaders who are busy world-wide turning the population to ashes.
As with almost all of Ted Mikels' films, AZ4 has plenty to like.  The goofy plot seems very much like a throwback to the old fifties science fiction films where the alien menace of the week was trying to invade Earth.  The international film crews that shot scenes for this production give this installment a global feel that sets it apart from the others and really makes the most of the limited budget. This film also makes extensive use of military stock footage to give the feel of a much larger production.  The computer generated special effects are fun and a nice change of pace from the old machete mayhem fans have become accustomed to but some of the CGI scenes work better than others.
 On the down side, the film has so many sub plots going on, many of which are dead ends or fail to connect with the rest of the story, that it gets confusing.  One of these has a small town sheriff investigating one of the Astro-Zombie killings by seeking the help of psychic to solve the supposed mystery.  Since similar deaths are occurring throughout the world and international newscasts are shown talking about these events, it seems highly unlikely that this local law officer would be completely clueless to what was going on.  Other sequences show solutions being developed which are then ignored for the remainder of the film, multiple paranormal angles are investigated that prove pointless, and one scene has a character don scuba gear and swim around in a pool, presumably to test something, but it's hard to tell what.  It's also difficult to understand what the digitally modulated voice of the Astro-Zombie leader is saying to his subjects on the home planet, so more than a few audience members were left looking puzzled during some scenes.
 The response of the ready made audience was enthusiastic as the credits rolled and everyone seemed pleased with the final result.  We had to vacate the theater for the 8PM show but almost everyone congregated in the lobby for a few minutes to wish John Martino a happy birthday and congratulate theFloridacrew.  We visited briefly but quickly made our exit since we still had a ninety minute ride back to Jacksonville that night.  The rest of the world will get their official premier in Las Vegas on May 20 but a handful of Florida films got to beat them to the punch by a few weeks.  For fans who can't make it to see the film in a theater, Alpha Video will be releasing it on DVD in shortly.