October 24, 2005
ScreamFest '05
With Megacon and FX both in the early part of the year, I usually experience a long dry spell in between conventions. To break up the monotony this year, my friend Byron had suggested we attend Necronomicon in the fall. I was originally in favor of this idea until I realized just how pathetic the guest list for Necronomicon was this year (not that this show was ever known for its guests). Doing the math, it became apparent that for essentially the same cash outlay and a little more time, we could check out the new kid on the block, Screamfest, October 14 through 16 inSouth Florida.
This was the third year for Screamfest and the buzz on the street (and from Andy Lalino) was good. The promotional material on the show mentioned it was moving to a larger venue this year and would have an expanded dealers room. The guest list looked intriguing and the admission price of $20 for the entire weekend seemed unbeatable. Our fall convention excursion was set!
The day before our trip, I had the unfortunate experience of hacking my thumb but good with a razor sharp kitchen knife. A couple of hours in the ER and nine stitches later, your fearless correspondent was cleared to leave town provided he did no lifting with his left hand. So it was that Byron and I headed off the following day for the Marriott Hotel and Convention Center in Coral Springs,Florida with movie memorabilia and high hopes in tow.
The trip down on Friday was a grueling one of fighting traffic, construction, and at one point an accident that put us dead in our tracks on Interstate 95 for 35 minutes! Thankfully we were able to break up the trip with a late lunch at the awesome Dixie Crossroads in Titusville. We finally pulled in to Coral Springs about 5:30PM (over an hour later than we anticipated), checked in to our hotel and headed for the convention center to get our admission bands and check out the Friday night festivities.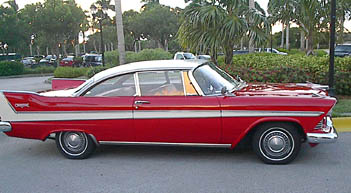 Unfortunately very little appeared to have been planned for Friday. There were some heavy metal sounding bands blaring from one of the rooms and some independent groups peddling merchandise in the hallways but the dealer and celebrity rooms were locked with no sign of a preview in the near future. We checked out the automobile the guest page of the website had described as "Christine 1958 Plymouth" but were saddened to discover it WAS NOT one of the cars from the film based on Stephen King's book. A sign in the front window informed us that this car was not used in the movie but merely the same make and model.
Quickly tiring of the distasteful mix of incense and B.O. that seemed to be seeping into the hallways (ED's Convention Tips #1: Hygiene is always in style and showers are pretty much free in this great land we live in. It's fine if you want to dress up like a rotting corpse for a convention but that is no excuse to smell like one.), we decided to call it a night on Screamfest and check out the remake of John Carpenter's The Fog that was opening in theaters that day. The new version of the film offers some improved special effects and a few interesting plot twists but the original is still miles ahead in the scare and acting departments.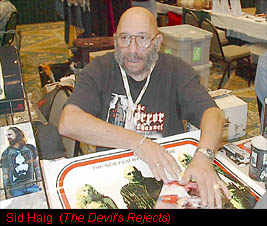 Saturday we attempted to take a leisurely pace but try as we might we still ended up at the show thirty minutes early. Since the hallways looked like the same group of suspects from the night before, I decided to use the Jedi Mind Trick and go into the show early (ED's Convention Tips #2: When entering a convention before the posted starting time, if anyone by the doors asks you if you are with the vendors, the correct answer is "yes".). Once inside, I was able to visit with some of the celebrity guests as they were setting up and get some unobstructed candid photos. I learned that celebrities are just like regular people in most respects as almost every one of them wanted to know what I had done to my hand!
The first person I saw setting up was Sid Haig, star of one the best films of this year, The Devil's Rejects. He has been a staple at recent Florida conventions so he recognized me as I walked in. I complimented him on his recent film work and presented him with a DVD of the film Aftermath which he had previously told me he did not realize was completed even though he stars in it. I made the mistake of waiting to get an autographed poster of The Devil's Rejects from him for fear of damaging it carrying it around. By the time I came back Saturday afternoon he had sold out.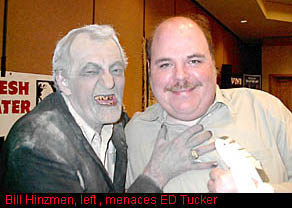 I headed over to the Night of the Living Dead area where lead zombie (the first one to appear in the graveyard), Bill Hinzman, was dressed to the teeth (literally) as his character from the film. He told Byron it takes him about an hour to put on all the makeup and, unfortunately, none of his current costume is from the original film. Mr. Hinzman was extremely affable as he poured over some of the original Image Ten Night of the Living Dead publicity material I brought. He really gets into being a convention guest and his dead-ication shows! While posing for pictures he even offered to bite my bad thumb but I told him if he did that it would be the last thing he bit for a long time!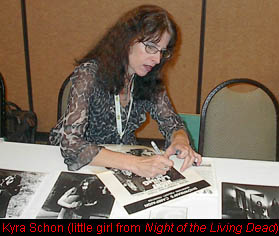 Kyra Schon played Karen Cooper, the young girl who kills her mother, in the original Night of the Living Dead. As I approached her table a fan was commenting on his love of horror hosts and the appearance of Pennsylvania's own "Chilly" Billy Cardille in the film. I couldn't resist throwing out Dr. Paul Bearer's name and the repository of information to be found on him at Crazedfanboy.com. To my surprise, Ms. Schon said she had not only heard of the site but visited it before! As she autographed some memorabilia for me, I told her to watch closely and she would see herself mentioned here in the near future.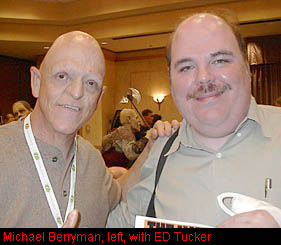 Setting up across the isle was the unmistakable Michael Berryman, an actor who has made a significant career out of his unusual appearance. While he is best remembered as the homicidal cannibal inbred Pluto in the horror classic The Hills Have Eyes, Berryman is actually extremely personable in the flesh. The major point of our conversation steered towards the ill-fated sequel to Hills that started out with extreme promise but delivers very little in the end. Mr. Berryman seems to have some excellent insights into his character and could have really helped the producers of this film with some creative input. Hopefully he will at least be tapped for a commentary on the DVD.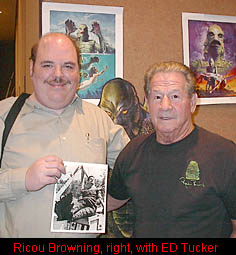 Next up was South Florida resident and Creature from the Black Lagoon star, Ricou Browning. For those unfamiliar with Universal Pictures' horror cannon (shame on you), Browning played the title Creature From The Black Lagoon in all three films during the underwater portions (Ben Chapman was the Creature on land). He had the unenviable task of swimming underwater in the heavy latex Creature suit but made the job look easy in the finished film. Later he would team with filmmaker Ivan Tors on a variety of South Florida lensed productions including the Flipper films and television series. Mr. Browning was charging the highest autograph fees of the show at $25. After a 50+ year career in films, it was hard to begrudge him the extra $5 and, after some good natured objections, I purchased a great shot of him sleeping between takes in the Creature costume.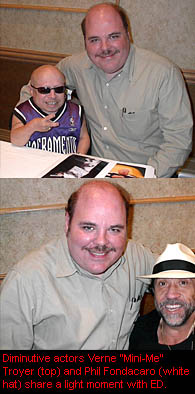 Diminutive stars Verne "Mini Me" Troyer and Phil Fondacaro were sharing a table in the back corner of the room. You don't appreciate how small these gentlemen are, especially Troyer, until you see them up close. I initially thought their table was empty until I saw a hat moving behind one side! The early hours of the show found both actors in excellent spirits and more than eager to pose for photos and share stories of their careers. While Troyer is better known for his turn as Dr. Evil's less than perfect clone in the Austin Powers film series, Fondacaro has an impressive resume of his own with roles in Land of the Dead, Phantasm II, and a whole slew of Full Moon video features including a stand out performance in The Creeps as Count Dracula.
The most memorable among many memorable moments of the show for me was being reunited with gore film pioneer Herschell Gordon Lewis. It had been no less than sixteen years since a naïve college student at the University of North Florida had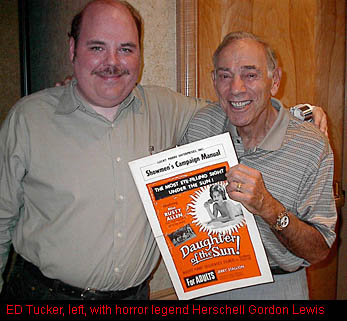 misspent a considerable portion of the campus guest speaker budget to meet one of his idols. You could have knocked me over with a feather when he still remembered me! As I approached Mr. Lewis's table I introduced myself and before I could say "you probably don't remember me", he cut me off with "why of course I remember you, do you still live in Jacksonville?" That was all it took and we were off with the reminiscing! Somewhere in the middle of all the catching up, I got my one sheets for Bloodfeast and Moonshine Mountain signed and gifted Mr. Lewis with a pressbook for Daughter of the Sun, a rare example of memorabilia from one of his early "nudie cutie" films. I noticed I was holding up the line as we kept talking film history so I made my apologies and moved on. I made a note to come back and see if he was available for dinner that night but unfortunately never made it.
Right next to Mr. Lewis's table was blaxploitation film legend Rudy Ray Moore, better know as Dolemite. In addition to a long string of film roles, mostly in light comedy / action pictures,Moore was also an important player in the early days of raunchy X-rated comedy albums. At close to 70 years of age,Moore still appears in excellent condition, especially considering all the violence he survived on the screen. I purchased a beautiful reproduction Dolemite poster from him and also had him sign an original copy of one of his early comedy records, Eat Out More Often.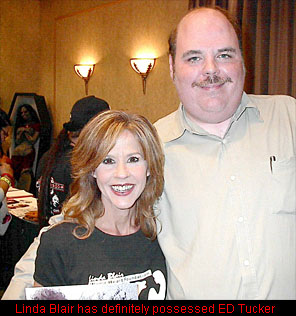 Of all the celebrities at the show, the only one I had to stand in line to see was Linda Blair. She arrived fashionably late and it didn't take long for a backlog of eager fans to form. While quirky about having her picture taken for free, she is very candid and honest about her career. I decided to give her the "Marini Sirtis" test and procured some very attractive nude photos of her for the occasion. Fortunately she passed with flying colors and not only signed my photo but gave me the entire background story on where they had come from, the magazines they appeared in, and how she had not been compensated for any of it. I didn't feel too bad about shelling out the $10 she charges for a photo op and even if it didn't go to the animal charities she says it does, I think she deserves it for being a good sport.
Also in attendance at Screamfest 2005 was the first lady of scream queens. Linnea Quigley (who at 47 now looks disturbingly like someone's mother caught in an early Madonna video), Corey Feldman, make-up pioneer Tom Savini, and wrestler George "The Animal" Steele who played a dead-on Tor Johnson in Tim Burton's Ed Wood bio-pic. Many of these celebrities didn't look to be doing much business while I was there and inadequate signage was no help (ED's Convention Tips #3: If you have a sizable number of celebrity guests, put decent sized signs on the wall BEHIND their table so it can be seen at a distance. This is a courtesy to both your guests and attendees.). Lisa Loring, who played Wednesday on "The Addams Family" television series, looked bored out of her mind the entire time I was in line for Linda Blair. Next to her was Stu Charno, a recognizable supporting actor from films like "Friday the 13th Part 2", "Christine", and "Sleepwalkers". He literally resorted to standing on his chair and waving his arms to try and attract attention to himself and/or impress Miss Loring. Unfortunately, at least during the time I was there, he appeared to be failing on both counts.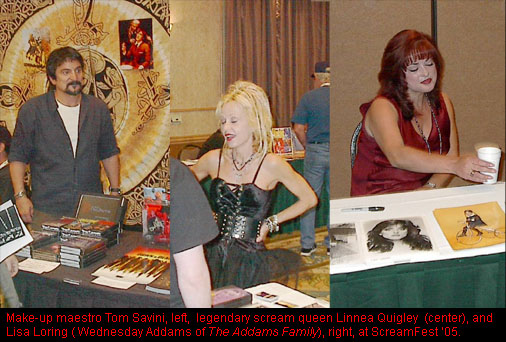 Bad signs were not the only technical problems plaguing the show. The layout for the celebrity tables was a twisting maze along the walls of the room with very little room left in the middle in most spots. This meant that fans had to line up for one celebrity in front of other celebrity's tables. The majority of the staff working the event had absolutely no idea who the celebrities were, let alone if they had shown up or not. After making my initial run of the room, I attempted to ask one of the staff members where some of the celebrities were I had not seen. I was first directed to a group of three ladies and told they worked the floor so they would know. Two of the women in this group looked puzzled and the third beat a hasty retreat before it was her turn to say "I don't know". On my third try, and becoming increasingly incredulous about the staff, a man was pointed out to me who, I was told, "knows it all". This gentleman confirmed my suspicions about a couple of the guests but even he couldn't tell me the status of all of them (ED's Convention Tips #4: Make sure your staff is well briefed on what is happening at the show or at least who to direct certain types of questions to. It also doesn't hurt to post a list of major events or changes near the ticket counter so attendees can update themselves on the happenings when they enter the show.).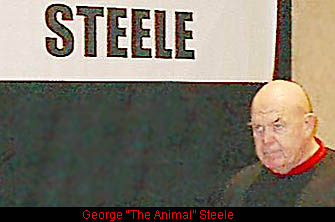 For the record, to the best of my knowledge, Bill Grefe, Betsy Palmer, and Basil Gogos were all MIA from the show. Captain Haggerty (the boat zombie) from Zombie and porn starlet Jasmine St. Claire were also nowhere to be seen. I was especially disappointed that Florida film legend Bill Grefe was not in attendance as I was looking forwarding to meeting him in person for the first time. Fortunately I had been braced for this unpleasant surprise a few weeks in advance by Andy Lalino who indicated that not only would Mr. Grefe not be there but that the show promoters knew about this. Surprisingly, no word of his absence was ever conveyed on the show's website, which I checked daily, and no posting of any celebrity cancellations was put up anywhere I could see at the show (ED's Convention Tips #5: If you are going to have a webpage advertising your show, KEEP IT UP TO DATE. Potential attendees use this information to decide if they want to attend or not. Obviously not every change can be noted in advance but if a guest cancels a week or two out from the show it should be posted.).
According to promotional material for the show, this year's dealer room was supposed to be their largest to date. There were probably 30-40 tables at the show, the vast majority of which were bootleg DVDs. Other merchandise ranged from comic books, fantasy weapons, autographs, and toys. The quality of these items was also broad. Some merchandise was brand new while other tables looked like the contents had wandered in from a garage sale. Surprisingly to me, for a show of this type, there were absolutely no dealers in original movie memorabilia. Considering the guest list, I would have thought that movie posters would have been a big seller but what little was there were all reproductions. If this was the largest dealers room the show has had so far and typical of the vendor mix, then I doubt I missed much by not attending earlier.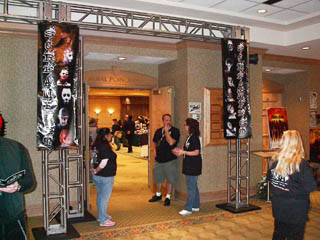 I returned after lunch Saturday afternoon in hopes of locating Seth Sklarey who played Orville, the lead and most disrespected zombie in the Bob Clark / Alan Ormsby cult classic Children Shouldn't Play with Dead Things. After foolishly checking at the ticket office about cancellations and being told by one staff person "we don't know we just collect the money", I headed on to the floor to look for myself. I located Mr. "knows it all" again and was told Sklarey had just set up at a back table originally labeled for Jasmine St. Claire. I was at least able to end the day on a high note by getting to visit with Mr. Sklarey and having some original memorabilia from Children, including a great lobby card featuring him, signed.
Feeling we had already exhausted everything the show had to offer, Byron and I headed back to our hotel wishing we hadn't booked an extra night. As luck would have it, the hotel allowed us to cancel our reservation extremely late and we hastily blew town around 5PM Saturday evening. The trip back was far less traffic-plagued, so we managed to get back at a reasonable hour.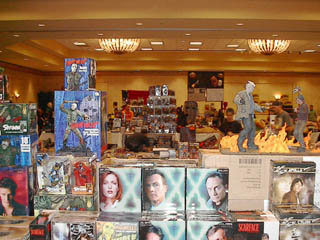 Screamfest seems to be a show loaded with potential but lacking in direction. If they want to be a celebrity show then they are starting off well but the selection seems to contradict every other facet of the convention. The emphasis on independent productions, modern music, and special effects doesn't blend well with a roster of predominantly old school celebrities. While some, like Sid Haig, have straddled the gap into modern films, the majority belong to another era. This selection was exactly what made the show enjoyable to me but it was obvious from the lines (or lack thereof) that most attendees were only interested in a few of the newer guests. Some serious logistical planning also needs to be done and improved communications are badly needed if this show wants to reach the stature of the larger horror conventions. Vendor mix is always difficult to dictate but obviously more promotion is needed to at least increase the number at the show. While I would not completely discount attending this show in the future, at the present, Screamfest is more of a gasp.