January 19, 2015
Show Review: Renninger's Antique Extravaganza 2014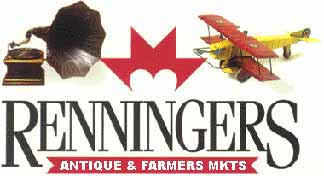 There aren't many shows left in Florida that offer the sheer variety of items that the November Renniger's Antique Extravaganza routinely supplies, so it's understandable that the buzz surrounding this show usually starts months in advance.  Whether you collect paintings, tools, pottery, comic books, knives, advertising signs, jewelry, toys or just about anything else, the odds are good you will find at least a little something at Rennigers and  sometimes even more than you bargained for.  This wide variety of merchandise leads to a large number of attendees so newbies be warned, this is easily a daylong event and can stretch to the entire weekend.
On Friday morning, November 14, my wife Cindy and I dutifully ventured into the fray armed for antiques and a day's shopping.  The drive between Jacksonville and Mount Dora was uneventful.  The weather was overcast, which I consider perfect for outdoor shows as long as this isn't a harbinger of rain.  About ten miles away from the antique market, we encountered some mild rain which immediately called to mind the torrential downpour that essentially negated the second day of last year's show.  Thankfully, by the time we reached highway 441, the moisture was gone and it did not return for the rest of the day.
The layout for the outdoor Extravaganza is something like a Rubik's Cube.  It always seems to be changing and without current aerial photographs it's almost impossible to tell where the best point to enter is.  Since the traffic flow is well directed, you don't get much more than a roll of the dice at best anyway at where you park so at that point the nearest entrance is usually the best bet.   For us this year, it ended up being somewhere on the left side of the field and part way down so we had to trek up and back down again to try to cover everything in that area.  The left side also seemed much narrower than the right this time so we decided to stick to one side on the way down and one back up rather than going by rows as we have in the past.  Logistical planning like this is a moot point at most shows but at something the sizes of Rennigers and on the side of a hill, this can be critical if you want to see everything before you wear yourself out!
With three day shows like this one, attending early the first day is a double edged sword.  While you get the best selection of merchandise and first crack at most things, vendors are also less likely to deal because it is so early into the show.  This was the situation we encountered when Cindy spotted a large case of vintage Barbie dolls in the first row we walked down.  While the woman's prices were fair, they were a bit on the high so Cindy offered her a lot price for the case and a few other items.  This seemed to fluster the woman because the show had just started and she wasn't inclined to do much horse trading at this point.  As she and Cindy worked cautiously through this monetary Mexican standoff, I casually mentioned how the weather last year had pretty much wiped out the Saturday business and left a lot of vendors panicking on Sunday with an entire day of revenue lost to them.  After a few more moments of back and forth banter, the woman accepted Cindy's offer and we had our first purchase of the day less than ten minutes into the show!
I am always a little nervous about making purchases this early in the game with so little information on the merchandise mix but sometimes you just have to go with your gut instinct.  It turned out this was the wise move because vintage toys were not overly abundant this year and much of what I did find was priced higher, due in part most likely to the lack of competition.  A little later on, I spied a Mattel Intelivision home video game system from the 70's in a box filled with games.  Best of all, these cartridges were all still in their original boxes with the paperwork and game templates for the controllers and all at a very reasonable price.  After having acquired this game system lot, I was immediately reminded of a promise I have made the last few years to bring a small collapsible cart with me.  You see a lot of customers wheeling these around at Rennigers but I haven't bought any items that were too large to carry here in several years.  The Intelivision wasn't going to happen though so I noted the space number and asked the vendor to hang on to it until I could pick it up on my way out.
Not too far down from the Intelivision I scored a vintage G.I. Joe Troubleshooter vehicle from a vendor with a mixed assortment of merchandise.  This 70's Adventure Team era ATV was a strictly "for parts" model but what was there was in pretty good condition and, as always, the price was right.  I could hear something rattling around inside it and when I got it home and opened it I discovered a Han Solo pistol and a Cylon laser rifle from the Star Wars and Battlestar Galactica 3 ¾ inch toy lines.  Not a bad bonus!
My  final purchase for the day caught my eye at the bottom of shelf in one vendor stall.  It was an Addams Family Thing bank from the 1960's which was still in the original box.  This variation on the old "mystery hand snatching coin bank" wasn't in working order but it did power up and may be repairable.  For the price I paid though I would have been happy just to get the empty box!  It turned out to be in excellent condition and features cool artwork of the Addams Family and their iconic home.  This was certainly a great note to end my buying on.
By this point we were about half way down the right side of the field so we still had a good portion of ground to cover before we could start to consider packing it in.  I found a boxed Atari 2600 game system with an equally nice assortment of boxed games at a price that was seriously talking to me.  Reality popped up quickly though and I realized that there was no way I could get this and the Intelivision system I had already purchased back to the car in one trip, so I was forced to pass.  We ran across several familiar vendors in this section, some we know by name and others by merchandise.  It was a good chance to catch up with people and check on items that might not be out on display but unfortunately it did not net us any additional finds.
After about four hours of walking up and down hill on uneven ground, starting up the incline that is Mount Dora from the bottom is a daunting proposition.  We began our climb back to the parking lot with an eye on finding the vendor I had purchased the Intelivision from, which isn't that easy to do in a field this size.  Fortunately I had his space number which got me back in the general vicinity although once everyone is set up, many of the numbers are obscured or lost.  I did manage to find him and retrieve my stash before finishing my assent and then locating our truck in the sea of vehicles parked at the top.
Every time we pull out of the Renniger's parking area after an Extravaganza, I always have the same thought go through my head – I should come back again later in the weekend.  I have no doubt that there are things I missed in this square mile of curiosities and I am also sure that many vendors couldn't even fit all they brought into their spaces until some things sold.  The antique archeologist in manages to be satiated with one day but I can always dream.  This was another great year for this consistently awesome show and it just might talk me into a two day sojourn yet!