November 21, 2012
Spooky Empire 2012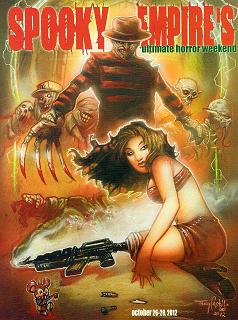 I have passed on the last couple of Spooky Empire events due partially to the lack of enough interesting guests to warrant the time and money and partly to the incredible Cult Fiction Drive-In show in Jacksonville ruining me for other conventions. After a year and a half though, I was ready for some more horror themed entertainment and the fall Spooky Empire show actually offered up a couple of guests I couldn't miss a chance to meet. Things had changed during my hiatus though so I was in for a few unpleasant surprises as well.
I knew I would be attending Spooky Empire this year as soon as I saw they were having a reunion of two of the main cast members from Lucio Fulci's 1979 Dawn of the Dead cash-in, Zombie. Also on the ticket to sweeten the deal was cult actress icon Mary Woronov. My other major consideration for attendance was getting to see some of the Tampa based Fanboy crowd, many of whom I hadn't seen it quite some time. For this particular event, I ran the numbers and everything came up all systems go for the weekend of October 26.
From the very start, I realized this was going to be a whirlwind excursion to get the most of what I could out of the show in a few hours and spend some quality time with my friends. Halloween is always a busy season and I had a previous commitment at a charity event that evening at the Ocala Drive-In that I had every intention of honoring. I had purposely avoided purchasing my one day ticket for Spooky Empire in advance even though they have finally gone to offering a discount for online sales. Unfortunately this $5.00 online discount also came with a $15.00 increase in the price of a one day admission since the last time I attended. The one day admission had risen to $40.00 and the weekend pass, which most of my friends had chosen to purchase, was now up to $70.00. Another change was the venue when the show moved from the Wyndham hotel to a littler further down International Drive at the Hilton. While the Hilton is a much nicer facility for events like this, they also have very limited parking options and charge for their garage.
The show's 11AM start time made traveling to Orlando Saturday morning very easy but it also cut into my already limited time to attend the show. My wife Cindy, who was along mainly for moral support and lunch as she opted to forgo the $40.00 admission, and I arrived about 10:30 and paid to park in the hotel's garage since it looked like rain outside and the closest alternative parking area we saw was a good distance away. I immediately got in the surprisingly short line to purchase my ticket at the door and struck up conversations with a few other attendees including one named Tim who surprised me by telling me he was also going to the Ocala Drive-In that night. My main consideration in not purchasing an advanced ticket was due to Spooky Empire's history of not being very forthcoming with guest cancellation information. Since the majority of my attendance hinged on the availability of two guests, I wasn't taking any chances. I had a couple of friends on the lookout for me Friday night though and both had confirmed sightings of the Zombie cast much to my relief. I have to give the promoters credit this year though, a small type written piece of paper was posted by the ticket office indicating that two of the guests had canceled. While this may not seem like much, trust me it is a major improvement over previous years.
By the time I was ticketed up, the doors to the show had been opened and I proceeded inside. In past years I had noticed a large number of people who seemed to be attending the event but were content to just hang out in the periphery without actually paying admission. The layout at the Hilton was set up so that guests had to go down an escalator to a lower level for the show and Spooky Empire volunteers were guarding this entrance point and turning away anyone without a wrist band. Since the lower floor was still a public area of the hotel and you had to enter individual rooms for the actual events of the show, I wondered just exactly how enforceable this policy was but it was a moot point since I had already coughed up the one day admission price.
Lonnie Dohlen had caught up with me in the ticket line and we proceeded into the show together. We were joined shortly by Chris Woods who had made a thorough reconnaissance of the place the night before and was a great asset in speeding up my progress, especially since the various rooms for the show were not well marked. The dealer's room and the one for the media guests were separate but connected and set up so that traffic flowed from one to other with no option to visit only one. It was still early and some of the guests were just arriving so we decided to kill a little time with a pass through the dealer's room first.
While merchandise is usually an important factor with me at events like this, the mix of items available at Spooky Empire has never put much of a strain on my bank account. Just as in previous years, most of the merchandise was comprised of newer items, much of which can usually be found on line for cheaper prices. Lonnie had already informed me the previous day that the number of bootleg DVD vendors was significantly down this year and the ones that were there didn't even really fit the category of true bootleggers. A large portion of their copyright infringing wares consisted of DVDs that copied not only the content but also the artwork and packaging of readily available products from Warner Archives and other specialty outlets, often at higher prices than what the legitimate items could be purchased for, so these were really more counterfeit items than bootlegs. Thankfully for my purchasing tastes there were a couple of dealers with some vintage merchandise and I was able to spend a couple of dollars this year. I picked up a Fundimensions' Rampaging Scorpion model from 1975 that was complete in the box and a recalled poster for Lucio Fulci's Gates of Hell. The original title of the film was City of the Living Dead but US distributors initially decided to rename it Twilight of the Dead, complete with poster art that George Romero wasn't too happy about. While the artwork was retained, the title was changed to Gates of Hell to avoid potential litigation.
Even at a leisurely pace, the dealer's room didn't take us that long to go through but it did kill enough time for most of the guests to arrive. Lonnie and I headed straight to the surprisingly empty Zombie table so that I could meet a couple of actors I have always admired and take care of some autograph business. Ian McCulloch and Richard Johnson both looked fantastic for their ages. McCulloch credited his health to living on a farm in Scotland these days and seemed genuinely surprised when I told what a fan I am of his 70's British television series Survivors. He played one of the lead characters in a band of people left alive after a plague wipes out 90% of the world's population but he dropped out after the second season for all but one episode in the third and final one. Mr. McCulloch told me this was due to his dissatisfaction with the way the stories were going and he only returned for one final episode because he was told he could do anything he wanted, including direct, as long as his character died at the end. Needless to say it was a high point of the series. In addition to an original Zombie one sheet poster, I also got him to sign a poster for another Italian cult opus he starred in, Alien Contamination. While he wasn't nearly as proud of this film, mainly because of a laughably goofy monster that pops up at the end, I reminded him that this film was the Italian equivalent of the excellent British film Quatermass II: The Enemy from Space, which seemed to make him a little less critical.
Richard Johnson is an actor with a huge string of credits dating back to the early 1950's. His lengthy resume includes everything from the lead in two installments of the popular Bulldog Drummond film series to episodes of Space: 1999 and The Alfred Hitchcock Hour. Like Ian McCulloch, the 70's found him lending his name to Italian horror films with their sights set on international audiences. Next to Zombie, he is probably best remembered for his turn in The Exorcist knock off Beyond the Door, so I couldn't resist having him sign the posters for both films. He even remembered his famous line from the later film, "the child must be born", where he plays a poor soul tortured by Satan himself in a one sided game of cat and mouse. Also on hand was Italian native Ottaviano Dell'Acqua who became famous world wide as the worm eyed rotting zombie that graced the film's posters and video boxes. He told me that he played a number of other zombies in the film as well and that the makeup took up to four hours a day to put on.
Across the hall from the Zombie cast, cult film icon Mary Woronov was just getting set up when I approached her table. I had always wanted to meet her ever since I first saw her in Roger Corman films like Hollywood Boulevard and Death Race 2000 when they played on cable back in the 80's. She was a really sweet lady and was more than happy to talk about her long career and future projects she would like to see completed some day. I had brought along a one sheet for Death Race for her to sign but I couldn't resist getting a nude shot she had of herself from Oliver Stone's Seizure with the late diminutive actor Herve Villechaize. That's a film I really have to see some time!
Lonnie and I caught back up with Chris, who had been working the room while I got autographs, and took a quick survey of the rest of the guests. With the exception of Robert "Freddy Kruger" Englund and ex-porn star Traci Lords, no one had a line at their table and many guests, like last minute addition Butch "Eddie Munster" Patrick, were sitting around bored. I was quite impressed with the Cannibal Holocaust reunion they had staged including director Ruggero Deodato but their table wasn't very busy midday Saturday either. I realize many of these guests show up almost every single year and the novelty has worn off, but I would have expected a stronger turn out for these overseas actors who seldom visit this country and have never been this far south before to my knowledge.
I felt like I had accomplished what I had come for with the show and it was getting close to our appointed rendezvous time for lunch, so Chris, Lonnie, and I headed back towards the Bistro restaurant. In route, we picked up Cindy who still relaxing upstairs and I finally met the last two members of the day's adventure party, John Miller and Lisa Scherer. Apparently the previous night had been a long one and 1PM was about as early as they could commit to for anything on Saturday. This worked out fine for my plans though because I was hungry and it gave us all time to catch up over lunch before I had to make a hasty exit. While the food was typically priced for a hotel restaurant and there wasn't much within walking distance outside the Hilton, the lobster sandwich I had was surprisingly good and everyone seemed satisfied with their meals.
After lunch, we took a few minutes for photos outside the Bistro and then parted company. John and Lisa were anxious to get their second day of the show started and Chris and Lonnie both looked like they could use a nap. I found out over lunch that I had missed a cool sounding horror wax museum exhibit due to a lack of signs but my timetable was too tight to go back and try to find it. I felt like I had more or less gotten my monies worth for the day as it was but with the increase in admission prices, the addition of parking fees, and the limitation of reasonably priced places to eat close by, this makes future Spooky Empire events an even tougher call than in the past. It was still a fun show and great to see friends I don't get to visit in person as often as I would like, but being out $50 just to get in the door for one day, not counting meals, gas, or potentially lodging, means I really have to weigh the pros and cons before deciding to attend again.