November 12, 2013
The Florida Extravaganza Returns!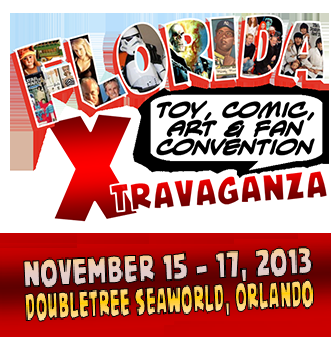 In January of 1991 at the behest of an out of state friend who wanted an autograph for his collection, I headed down to Orlando one Saturday morning to pay what I intended to be a quick visit to something called the Florida Extravaganza show.  When I set foot inside the hotel ballroom where the show was being held, I was immediately overwhelmed but what seemed to be my entire childhood gathered up in one spot!  I had been to a few smaller shows before this and probably could have considered myself something of a pedestrian collector but this show was of a magnitude I had never imagined.  My "quick" visit became a half a day journey through a nostalgia fueled wonderland that emptied my wallet but filled my head to the bursting point.  This was truly a life changing experience for me that started me on my journey as a professional collector and started my love affair with what would eventually become known as the FX shows.
 The next year I was armed for bear when the show rolled around again and I had a half dozen friends, all curious from my tales of this toy mecca, ready to join me as my entourage for the day.  For the decade or so that followed, the show continued to grow and each year brought more dealers and new surprises.  Then things hit a snag when co-founder Mike Herz departed for greener pastures and the vibe began to sour.  In 2005 though, Herz returned to rescue the show from the brink of oblivion and send it running full steam ahead into a brick wall that no one could have foreseen in 2010.  Just a few weeks out from the date the show was canceled and disappointed collectors were left standing in the cold scratching their heads and wondering what happened.
According to Mike Herz, the problems began with his return in 2005 when he literally did too good of a job saving the event.   The show went from near death to bigger than ever in just a few short years and became a quarter million dollar proposition that began to lose its uniqueness and personality while growing into something ridiculous. Now the dust has settled and Herz has not only crawled out from under the rubble and brushed himself off but stands poised to bring the show back and this time it will be much closer to its roots.
 The weekend of November 15-17 will see the return of the Florida Extravaganza but in a much more manageable incarnation.  This kinder and gentler event will be held at the Doubletree Sea World, the same location it was held at twenty years ago for all you nostalgia buffs and it will feature 90 booths of cool collectibles and terrific toys for attendees to browse at their leisure without concern for packing a lunch or bringing a GPS!  FX was one of the few shows to survive to rise of eBay and online collectibles and Herz firmly attributes this to the show's ability to introduce collectors to items they never knew existed that they could never ferret out through a computer screen.  This is a hands on, in person, event that demands audience participation.
Guests have always been an important part of the FX show and in keeping with its new scale some interesting faces have been gathered up for 2013.  Chief among these is Jaleel White, best known as the uber nerd Steve Urkle on the 90's sitcom Family Matters.  According to Herz, this will be White's first convention appearance ever!  Also on hand will be Barry Bostwick of Rocky Horror Picture Show fame and a clutch of the kids from the 1983 Bob Clark film, A Christmas Story.  This should certainly help usher in the Yule tide season in style in addition to celebrating the thirtieth anniversary of this modern classic!
 As originally conceived, the word Florida probably shouldn't have even been part of the title since this tended to box the Extravaganza into the state specific show while it had international ambitions.  Today Mike Herz wears the Florida moniker as a badge of honor and is more than content to make this a Florida centric event that supports local actors and artists with an at home show.  The Doubletree Sea World offers ample opportunity for expansion and should provide the newly established November show with a home for at least the next few years.
 Mike Herz, a collector himself who got into this show promotion business after becoming a dealer to sell off the extras from his Batman collection, has put in some long hours to insure that the classic FX vibe is back.  This includes lining up great dealers with neat stuff and he even tried to get 1993 guest Van "The Green Hornet" Williams back!  Unfortunately the senior superhero had to decline due to health considerations.  According to Mike, if he could only get one thing across to potential attendees it would be that they are going to have a really good time and this is going to be just like an old school FX show.  "I want to go back to the family run event where everyone has fun and goes home and tells their friends" says Herz.  Well I am doing one better and telling my friends in advance so they don't miss it – the coolest show on Earth is back!