June 9, 2012
Abbey Road on the River 2012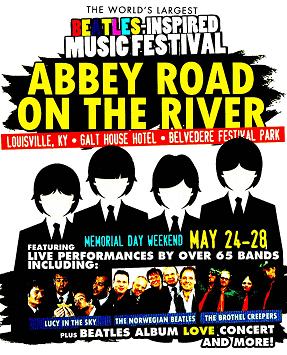 Louisville, Kentucky is a town best known for the odd combination of bourbon and baseball bats but on Memorial Day weekend for the last couple of years it has also played host the massive Beatles festival known as Abbey Road on the River.  2012 was the eleventh anniversary of this celebration of mop top madness that began in Cleveland, Ohio in 2001 but moved to the bluegrass state three years later.  I've had friends that have tried to talk me into taking this magical mystery tour half way across the country for the past several years but things finally fell into place this year for me to join them.
Cindy and I started our mini-vacation on the Thursday before Memorial Day.  It was almost impossible to find a direct flight out of Jacksonville to Louisville so we had to settle for a connector  in Baltimore.  The Abbey Show didn't officially start until that evening but our only flight choice that would get us there during the day left at the crack of dawn that morning.  Our connecting flight in Baltimore gave us a two hour layover so, not being one to miss an opportunity, I contacted long time friend and actor George "Alien Factor" Stover and invited him to breakfast at the airport.  While we have talked many times, this was our first in person meeting and since George is also a fanboy of the highest order we had a lot to catch up on.  The two hours shot by quickly and we said our goodbyes with just enough time for Cindy and I to make it back through security and to our, thankfully, nearby gate where they were already boarding our next flight.
 We hit a snag in Louisville when we discovered that the airline had lost Cindy's bag.  We were told it would most likely be there by 5PM that day but when we called around 6PM we were informed it was still MIA.  The airline finally recovered it around midnight but it still took until close to 1PM the following day to get it to the hotel but Cindy was relieved to finally have her stuff back.  We were staying at the beautiful and historic Galt House Hotel which sponsors the event and we could not have asked for a nicer location.  The majority of the long weekend's events took place on the lawn at the rear of the hotel but the ballroom and several conference rooms inside the building were also utilized.  We quickly realized you couldn't swing a stick anywhere near the hotel without hitting something Beatles related!
After we arrived and got checked in, we rendezvoused with Chris and Karen Nunley who had arrived the day before to do some sight seeing before the festival officially kicked off on Thursday afternoon.  They introduced me to Beatles author Bruce Spizer who was passing through the beautiful atrium we were holed up in on the way to his table and I promised to spend some time there later that weekend.  We were joined shortly by fellow Ocala boy and extreme Beatles fan Richard Rubin and his friend Lynn Benzing who had arrived that day not too long after Cindy and me.  Richard is a ten year veteran of this show so he knows most of the 65 tribute groups that were performing that weekend on a first name basis.  Before I could say Sgt. Pepper, Richard had his event program out and was laying out all the must see concerts for the entire weekend.
 Our first concert for the event was by a group called The Brothel Creepers who were performing at the fountain stage.  This was a strategically assembled platform erected in front of the hotel's huge fountain which provided a beautiful natural back drop for the performers.  The Creepers were a younger band who put there own spin on the music of the Beatles.  Their performance was enjoyable but not the way I usually prefer my Beatles tunes.  Richard reassured us that the tribute bands range from modern interpretations like this one to exacting recreations of the Fab Four in concert with all stops in between.  Thankfully he was right and this event had something for everyone as long as you like Beatles' music!
I had already seen the newly restored Yellow Submarine film a few weeks earlier at a theater in Tampa but I wasn't going to miss an opportunity that night to watch it drive-in style under the stars.  I may be biased towards outdoor cinema but the screening here seemed to look and sound even better than the Muvico hard top.  You could actually see the brush strokes in some of the background artwork and the details were so vivid it was almost like watching the film for the first time.  The audience sang along with most of the songs and had a rocking good time as a fantasy version of their favorite band saved the peaceful people of Pepperland from the music hating Blue Meanies just like they have been doing for the past 44 years.  Some members of our group, who shall remain nameless, had never seen the film before and, while it may not have made any new converts that night, I can at least say they experienced it in an optimal environment.
 Following the screening, we rounded out our first day with a late night concert courtesy of Meet the Beetles UK.  This group is one of the "exacting recreation" types and they filled this overview of the Beatles' musical career with a great selection of songs.  Cindy, Karen, and Lynn discovered that Richard, Chris, and I knew the words to every Beatles' tune and were only too happy to sing along with the band!  This may not have made for the perfect concert experience for the female members of our group but they good naturedly put up with our enthusiasm for the duration for the 45 minute set.
Friday was our fist full day of Beatle-goodness, but Chris and Karen suggested a trip to the Muhammad Ali museum, which was literally across the street from the festival, first.  I have never been much of a fan of professional sports but I did remember Ali as more of a media icon of the 70's so this sounded like a pleasant diversion.  As it turns out, the well designed museum is really as much a lesson in United States history as it is a tribute to the famous boxer.  Following an impressive multi-media presentation, we toured the various levels of the building that walk you through Ali's life from the time he became obsessed with boxing as a child until his honor of lighting the Olympic torch in 1996.  While I had started the tour slightly dubious as to how much I would get out of it, I ended it wishing I had more time to appreciate the exhibits and thinking I should definitely return if the opportunity presents itself.
 We returned to the festival in time to catch the 1PM screening of Strange Fruit: The Beatles' Apple Records.  This interesting documentary on The Beatles' record label focused on the other groups signed to it aside from the Fab Four.  Most of the surviving artists appeared in on camera interviews but participation from The Beatles themselves, even in stock footage, was lacking.  While the documentary was extremely informative and covered the entire lifespan of Apple Records in exhausting detail, the close to three hours running time was enough to detour even the most hardcore fans.  This is certainly the type of film which will play better on home video where it can be divided up into more easily digested increments.
Following the movie we headed to the lawn stage to catch The Hollywood Beatles.  For this particular performance, they did a song for song reenactment of The Beatles' 1965 Shea Stadium concert complete with authentic costumes.  As Richard, the only one in our group to have actually seen The Beatles perform live, pointed out, this group probably sounded better than the originals because they could actually hear themselves play thanks to modern technology.  This act fromCaliforniafeatures Jimmy Pou who does an exacting recreation of quiet Beatle George Harrison.  Later in the festival, Pou was scheduled to do a one man show onHarrison's life that we unfortunately did not get to see.  Based on his She Stadium performance, I can only imagine that it was awesome.
 Meet the Beetles UK took the lawn stage following theirHollywoodcounterparts to perform the Abbey Road album live.  They also dressed in the same garb The Beatles wore in the famous album cover photo although "Paul" admitted to adding shoes to his attire for fear of nails on the stage!  This performance was actually more impressive than the free form one Meet had done the night before, especially given the complicated nature of this music and the fact that The Beatles never performed any of it live as a group.
The merchandise for Abbey Road on the River was divided into two areas.  Inside in the ballroom were some very high end dealers selling Gretsch guitars, recreations of Beatles clothing and related items (including a $265 Sgt. Pepper drum that actually looked like it was worth the price), and artwork.  This was also where author Bruce Spizer had his book table filled with all of his Beatles' books that are still in print and haven't sold out. I eventually managed to make it by to visit with him for a little while and purchase a very nice price guide he wrote the introduction for and his book The Beatles are Coming: The Birth of Beatlemania in America, which looks like a great read. Outside, there was a long flea market style stall with various types of new merchandise, predominantly T-shirts and other clothing type items.  This was a nice selection to choose from, including shirts for the event, but it wasn't ultimately anything that couldn't be purchased online cheaper.  At the far end of the structure, there were two enterprising vendors with the foresight to specialize in vintage merchandise.  One of these gentlemen even dared to deviate slightly from the shows theme and carry some non-Beatles items!  It was from this vendor that I purchased an original 1967 Monkees lunchbox with thermos, and a charm bracelet, sheet music, and original poster of the pre-Fab Four!  As I returned to our group with my hard haggled treasures in hand, I figured I was probably the only person walking away from a Beatles show with vintage Monkees merchandise but sometimes that's the best way to find bargains.
After a break for dinner, we headed inside the hotel to catch Mark Staycer's John Lennon show.  Staycer bears an uncanny resemblance to Lennon circa 1975, right before his five year retirement from performing.  The intimate setting of this performance gave the eerie impression of what it would have been like if John Lennon had dropped in popularity and gone on the road playing small clubs and dinner theaters later in his life.  While Staycer portrayed Lennon with nothing less than heartfelt admiration, he cast some gloom on the festivities by forcing fans to contemplate what might have been if his tragic 1980 murder at not taken John from this world far too soon.
 The main show Friday night was the group Abbey Road Live performing a 45th anniversary tribute to the Sgt. Pepper's Lonely Hearts Club Band album.  This was a spot on reproduction of everything from the opening fanfare to the closing inner groove of the European pressings of the record.  For all intents and purposes this was Sgt. Pepper's Lonely Hearts Club Band live in concert on the road.  Just like the benefit for Mr. Kite, a splendid time was had by all but following this show Cindy and I were ready to call it a hard day's night!
Bright and early Saturday morning Chris and Karen again suggested a non-Beatles activity, in this case visiting the Louisville Slugger baseball bat factory a few blocks away.  In addition to their own video show on the history of baseball and bats, the factory has a very nice museum and, best of all, a public tour of the factory.  Our tour guide, Don, managed to keep us thoroughly entertained while also slipping in a little educational material when we weren't looking.  I was actually surprised at how much goes into making wooden bats and how many styles there are to choose from.  The two most interesting things I learned on the tour were that the billy clubs the factory manufactures cannot be sold to the public and the miniature souvenir bats each patron is given at the end cannot be carried onto airplanes because they are considered blunt weapons!  If you are flying in from out of town and want to keep your bat after the tour, be sure it goes into your checked luggage or the Louisville airport will be adding another one to their collection!
 We finished our tour and returned to the hotel to see Bruce Spizer's presentation on the early years of The Beatles recording career.  He concentrated on 1962 and 1963 when they were still solidifying as group with Ringo Starr on drums and their fist experiences in the studio.  Like everything Bruce does, the discussion was meticulously researched and highly informative.  Unfortunately, the audio portion of the presentation proved unreliable so we were limited to spoken word and visuals but it was still an excellent talk.  I had already decided prior to the presentation that I was going to purchase a couple of Bruce's books but if I had been on the fence this would have put me firmly on his side.
Returning outside to the mid-90's heat, we headed for the fountain stage to catch a concert by the Richard recommended group Britbeat.   One thing Chris had told me was a "must do" from the outset was getting the all access passes for the weekend.  These allowed us to use preferential seating areas for most concerts and, for apparently the first time this year, entrance into the Hard Rock Café sponsored hospitality tent.  In addition to shade, there was also comfortable seating, and free snacks and beverages.  Considering that most of the food and beverage vendors at the show had priced their products with the typical concert type event markups, I tip my Beatles cap to the Hard Rock for saving us a considerable amount of change while making our outdoor experiences much more pleasant.
 Following Britbeat were the Norwegian Beatles who, as their name implies, were  from Norway and completely unaccustomed to the rising temperatures of the southern United States.  I had heard good things about this group and they did not disappoint.  It was interesting to listen to them speak between songs in their native accents and then belt out flawless renditions of the Beatles' hits including, of course, Norwegian Wood!  Also in between songs the entire band was gulping down bottled water while the lead singer kept asking the audience if it was usually this hot here!
Up until Saturday evening everything we had attended at the event had gone off according to the event schedule.  Our initial plan for that night was to see the Love live album concert at 7PM and then watch the main act for the weekend, Jefferson Starship, at 9:45.  We had not heard anything about any scheduling changes until Richard appeared and informed us Jefferson Starship would be arriving late and they were pushing the Love show back to 8PM.  We took advantage of the extra time to walk down to the nearby Jeff Ruby's Steakhouse Lynn had spotted earlier in the day.  After being told it would be about three hours to get a table for our group, we opted to eat at the sushi bar instead which was literally an adult beverage bar where you could also order sushi.  The menu was limited that evening and the prices were about what you would expect at a name steakhouse but the real treat was the bar's pianist.  He had obviously gotten the memo that Beatles fans were in town because he played nothing but a very entertaining medley of their music adapted for the piano.
 We were in our reserved seats for the Love show and ready to roll when the lights went up.  For this mega concert, several of the tribute groups plus their accompany string and brass sections pooled their talent to wow the audience.  The bands would take turns on stage and occasionally co-mingle to maximize their collective talents as they performed a note for note live recreation of the soundtrack from the Beatles themed Cirque Du Soleil show.  This was complete with sound effects, dialogue, and just about anything else they could work in.  For something that could not have been rehearsed for more than a couple of days, the bands did a phenomenal job and created a truly unique and entertaining concert that will be hard to forget.
At the conclusion of the Love show, it was announced that Jefferson Starship was still in route and the promoters apologized for the continued delay.  As a consolation prize, Yellow Submarine was screened again while the stage was set up for the group's eventual arrival.  At this point Cindy and I decided to cut and run since we had no idea what time this concert would actually start and we needed to be at the airport early the next morning to catch our return flight to Jacksonville.  We learned later that it was close to 11PM when Jefferson Starship finally took the stage, so even though I would have liked to see them perform I think we made a wise choice.
 Abbey Road on the River is a lot of fun and it manages to pack an incredible amount of Beatlemania into the five day event.  We only stayed for three days of it but I still felt completely Beatle-ed out by the time I left.  I have every intention of returning for future festivals but, as we discussed with Chris and Karen, it is good to work some non-musical tourist activities into the trip to keep things balanced.  Fortunately, based on the brochures I picked up for future reference, Louisville has a lot of fun non-Beatles things to do too so I am already mentally planning my next trip!