About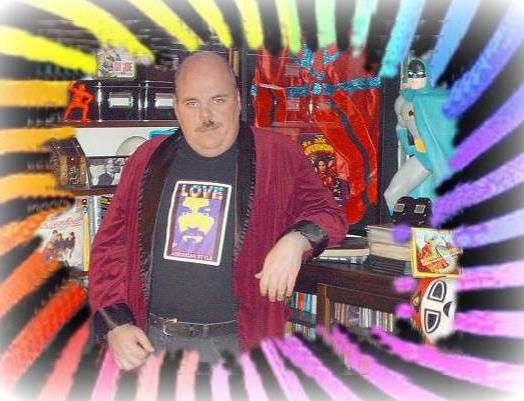 Welcome to the electronic pages of Popretrorama.com – a website dedicated to the celebration of vintage pop culture in all its glory. My name is ED Tucker and I will be your tour guide down the misty halls of nostalgia as we explore the fun, the fabulous, and the often forgotten.
I have been a writer, a collector, and a historian for all of my adult life. I have nurtured an appreciation for horror movies, cool toys, comic books, and other ephemera from a young age. I seemed to pay more attention to these types of things than my peers did and I was always on the look out for other people to share my knowledge with and gather more information and experiences from. In my early teen years, I started cataloging much of this information in spiral bound notebooks and on legal pads, complete with pictures cut out of the local newspaper, TV guides, or anywhere else I could find them. I had no idea how ready I was for the information age of computers to get started!
Popretrorama began life in 2007 as a weekly column called Retrorama on another website called Nolan's Pop Culture Review.  By this time my manual catalogs had become an electronic file cabinet that was busting at the seams and was desperately in need of a regular outlet. You can read more about the history of Retrorama here.  Following some changeovers on that site at the conclusion of 2011, all of the content I had written for it was migrated to this new one specifically designed to house and continue those articles as well as allowing for expansion into new areas. Over the years Retrorama has included articles on everything from obscure films to collectibles toys to convention reviews to comic books and everything in between. It is the mission of this website to continue these memory musings while also taking brief side trips to more current but still tangent topics.
Before the dust had even settled on this new website, I was joined by a previous co-writer, Chris Woods, whose remembrances of his days Growing Up Fanboy have touched a chord with many fellow fans who spent the majority of their formative years during the 1980's. Chris's articles speak from the heart as do his reviews of a whole myriad of off beat films that run the cinematic gambit from mainstream to entertainingly esoteric. He was the driving force behind the cult movie review section on that site which now forms the backbone of Popretrorama's Retro Reel Reviews. Here you will find overviews and recollections of all types of great films that have made themselves memorable in one way or another.
Here at Popretrorama we welcome your feedback, comments, suggestions, or anything else you have to share. If you have additional information on any of the articles contained on this site, even if it is contradictory, we would love to hear from you. It is only by sharing our collective knowledge and experiences that we can make this site as accurate and informative as possible and preserve those guilty pleasures we all love so much. Many of the topics covered here were chosen because of the lack of comprehensive information available about them elsewhere. As such, there is always going to be some new piece of trivia or different perspective coming to light that can only help to enhance them. Please send all communications to retrorama66@aol.com. I promise a personal reply to everyone who takes the time to write even if it does take a little while to get back to you and full credit will be given for any ideas or information used on the site. You can also follow us on Facebook at Pop Retrorama.
Now, strap yourself in to the retro roller coaster and be sure to keep your hands and feet inside the car at all times. You are about to embark on the nostalgia trip of a lifetime so sit back and enjoy the ride!
- ED Tucker