July 3, 2014
Abbey Road on the River 2014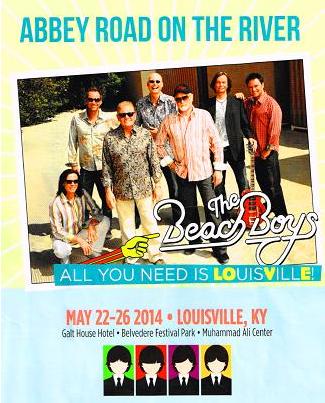 After my debut adventure at this show in 2012, I missed the 2013 installment due to a conflicting schedule.  At the last minute I did try to swing it but by then the hotel was already sold out and this is one show that is best experienced from on the premises.  As a consolation though I booked my stay for the 2014 show a year in advance and began the wait.  I knew 2014 was the 50th anniversary of Beatlemania in America and what better way to celebrate this landmark then at a weekend long music fest dedicated to the Fab Four?  Needless to say, by the time May rolled around this year I had my bag packed and was ready to head for Louisville, KY to get my Beatles on!
This year's show reunited most of the same crew from 2012, all of which except for my wife Cindy and I had gone last years as well.  As fun as this show is on its own, having some cool friends to attend it with makes it infinitely better.  Chris Nunley is the lead singer of the 60's group The Royal Guardsmen who experienced many of these years from inside a bus or airplane staring out the window just like The Beatles did.  Richard Rubin is another old Ocala boy just like me and one of the few people I know who can come close to rivaling me on Beatles trivia.  It will never really be a contest though because Richard has the one advantage of having actually seen the Fab Four in concert in Jacksonville in 1964 so I will always envy him.  Chris's wife Karen and Richard's friend Donna Johnson rounded out our group for this year.
Cindy and I arrived around lunch time on Thursday and were the first of our group at the hotel.  We unpacked and got some lunch before meeting up with everyone else and planning our rough itinerary for the weekend.  Since Richard was familiar with almost all the bands, we went mainly with his recommendations for what to see.  One exception though was the Give Peace a Chance VIP event which I had purchased advanced tickets for and the rest of the group decided to pass on.  After a group walk around the grounds that evening to take in the rapidly coming together show, we parted company for a few hours.
The Muhammad Ali Center, which houses a museum dedicated to the famous fighter, is located right behind the Galt House Hotel but in previous years it took a circuitous route to get to it on the street.  Last year a bridge was built spanning the gap between the two buildings and making passing from one to the other very convenient.  As a result, Abbey Road on the River incorporated the Center into its weekend long event and makes good use of the patios and auditorium.    Because of Ali's strong stance against war, the Give Peace a Chance exhibit was a perfect fit for the Center and was temporarily incorporated into one of the upper levels of the museum.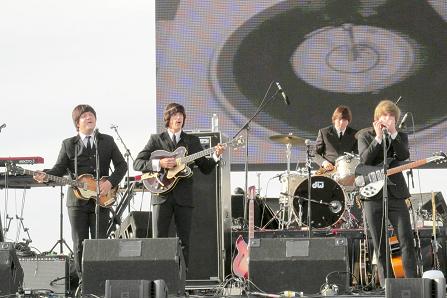 The Give Peace a Chance exhibit is dedicated to the second of John Lennon and Yoko Ono's famous Bed-In protests which was held in Montreal, Canada at the Queen Elizabeth Hotel almost forty-five years ago to the day on May 26, 1969.  This was the event that was attended by a number of famous guests like Tommy Smothers, Timothy Leary, and Allan Ginsberg and also where the song that would become Lennon's anthem for the rest of his life, Give Peace a Chance, was recorded.  The exhibit tells the story of the Bed-In through photographs and news footage and also features the actual bed John and Yoko used for the protest.  The VIP party we attended also included a lecture from a Louisville college professor who had been involved in the Peace Movement in the 60's and 70's.  He was able to provide a first-hand account of the times and put John Lennon's contributions into context.  I felt like this was a very worthwhile event and the Ali Center did a great job on the party and this was even before we were given a limited edition poster that wasn't even mentioned in the advertising!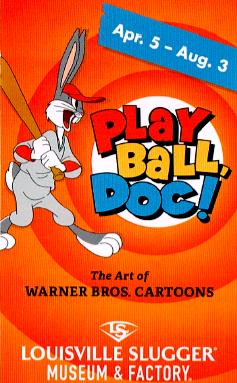 We caught up with the rest of our group just in time for a movie under the stars on the Galt House lawn.  The film this year was Good Old Freda, a documentary on the Freda Kelly who served as secretary to Beatles manager Brian Epstein and later their own company Apple Records.  She was directly involved with group, including managing their huge fan club, from before the start of Beatlemania until several years after the group split up.  The documentary was slow moving in parts but provided an interesting and unique perspective on The Beatles from someone who saw it from very close to the center of the storm.  Just before the film began, Ms. Kelly was introduced to the audience, said no more than two sentences and disappeared into the night!
Along with Chris and Karen, Cindy and I decided to get a little non-Beatle activity in on Friday morning so we walked down to the Louisville Slugger bat factory.  I had noticed billboards on the way in from the airport touting a Warner Brothers animation exhibit and that was enough for Chris and me.  When we got to the factory, we were informed by the information desk that the animation exhibit was considered part of the tour which we had paid for on our last visit to Louisville and didn't see a need in repeating (although it is more than worth doing once).  The helpful information lady talked to a couple of higher ups and got us free access to peruse the collection of original storyboards, sketches and artwork from the Warner Brothers archives, many of which were, appropriately enough, sports themed pieces.
Back at Abbey Road on the River, our group took in an early afternoon concert by former Wings member Laurence Juber in the Ali Center auditorium where we also rendezvoused with Richard and Donna.  I had never seen Juber play solo before and it became immediately apparent why McCartney chose him for his band.  The double Grammy winner played everything from Wings to the Beatles to solo songs to rock and roll standards and all unaccompanied on just a single guitar.  This was an intimate and amazing performance and I can easily see why he keeps getting invited back!
Now at full strength, our group returned to the hotel to see The Traveling Beatlyburys who, I am sure you can guess, played a mixture of Beatles and Traveling Wilburys tunes along with a few George Harrison solo numbers.  This was a very refreshing set since I was already getting a little tired of Twist and Shout and I Want to Hold Your Hand, which almost every one of the tribute groups seemed to have been legally obligated to play!  Afterwards we caught the far more traditional Meet the Beatles performance at the fountain stage before the evening's main event, Ambrosia with Laurence Juber, on the main stage.  Ambrosia is probably best known to Beatles fans for the cover version of Magical Mystery Tour they contributed to the stupefying film All This and World War II!  Even with help from Mr. Juber, this California soft rock group from the 70's wasn't wowing us so we bailed a few songs in and finished up the night with Britbeat back at the fountain.
Cindy and I wandered around the hotel on Saturday morning and took in the small group of vendors both inside and out.  There was very little in the way of vintage items for sale except for two dealers out on the lawn who seemed constantly in danger of being smoked out by the lunch wagon next door!  Even in these slim pickings, I did manage to ferret out a 1964 tour book and a Yellow Submarinepop-up book.  By the time we finished that, Richard and Donna were up and we joined them for a late breakfast / early lunch at the Hardrock Café a few blocks from the hotel.  I took advantage of these few minutes of quiet to confer with Richard on his picks for the day in terms of the bands and activities so we could make sure we caught everything that was worth seeing.
After brunch we returned to the Ali Center for author Dave Schwensen's talk on what we thought would be The Beatles concerts at Shea Stadium.  Contrary to the program's description, this multimedia presentation was actually from his earlier book The Beatles in Clevelandand documented those two famous performances in 1964 and 1966 that did more to shape The Beatles' future (and the future of rock and roll) than anyone realized at the time.  In a nutshell, The Beatles first concert at Public Hall in 1964 resulted in a near riot that stalled the concert midway until order could be restored.  This led to the group being banned from further public performances in Cleveland indefinitely even though the cause lay in inadequate security.  Two years later, the Fab Four were allowed back in the city after Louisville, Kentucky had to pass when a suitable venue could not be secured.  This time the concert was held at the Cleveland Municipal Stadium and security was increased.  Unfortunately this still wasn't enough to stop the crowd from jumping the rails and knocking down a snow fence before storming the stage only four songs into the concert!  The Beatles were hustled into a nearby trailer until the fans returned to their seats and the show eventually did go on but if this hadn't been the groups last US concert tour it would have certainly been their last time performing in Cleveland!
Saturday afternoon was a real highlight for me with John Sebastian, lead singer of the Lovin' Spoonful, performing in the hotel ballroom.  I had never seen him live before and even though his voice wasn't what it once was he was still extremely entertaining.  Early in the set he told the audience that he was asked by the Abbey Road on the River promoters if he knew any Beatles songs and he said "sure".  When they then asked him if he would perform some of them at the show he told them "no"!  I had to admire his candor and truthfully there was already more than enough Beatles music at this show so this was no loss.  What was a loss was the lack of Lovin' Spoonful songs he did in the all too short set in favor of some old standards which were nice but not exactly what the audience was there for.  Afterwards, Sebastian was kind enough to sign autographs and even gave away free pictures, which is a real rarity in this "pay to sign" age.
The feature concert on the lawn stage Saturday night was a combination of performances by Jukebox, The Return, and Britbeat.  I stayed for most of the first two performances but by the time Britbeat was about to come on I decided to break from the pack.  I had already seen Britbeat play the previous day and the track line up from these cover bands was starting to get repetitious, especially when they were playing back to back.  Cindy and I walked over to the Ali Center's main patio to see B4 and After, a group I had been lead to believe specialized in very early Beatles tracks plus some solo selections.  Initially they performed just slightly less common early tracks until the lead singer made a very interesting announcement.  It seems they had been told to play Beatles songs that people could dance to but the band felt that since not that many people were dancing anyway they would just play what they wanted to!  At this point, the group launched into an incredibly refreshing version of Leave My Kitten Alone, an early recording by The Beatles that did not see official release until the 90's.  This was followed by several solo songs, mainly from the McCartney and Harrison catalogs, and a couple of obscure album tracks.  I walked away from this concert happy with my choice and also that B4 and After had decided to do what they do best rather than conforming to a rather shortsighted edict.
The last full day of Abbey Road on the River began for us in the hotel ballroom where all around Beatles expert Bruce Spizer was interviewing Freda Kelly prior to another screening of her documentary.   After her abbreviated stage appearance on Friday night, I was curious to see how verbose Ms. Kelly would be in front of a crowd.  Thankfully Bruce managed to pull her out of her shell and she fielded all manner of questions from the enthusiastic audience who couldn't get enough trivia related to their beloved Beatles.  We left as the documentary was starting again.  Even though it was very well worth watching once, I decided to pass on getting a signed DVD of it since I really couldn't see sitting through it again.
I took this opportunity to stop by the hotel merchandise room to finish up my shopping for the trip.  This included purchasing a copy of Dave Schwensen's book The Beatles in Cleveland to get the rest of this fascinating segment of Beatlemania.  His new Shea Stadium tome is high on my radar for future acquisition.  I also added a new Bruce Spizer book, The Beatles for Sale on Parlaphone Records, to my library.  Bruce's books are incredibly detailed and highly researched.  It's just a shame that most of them were printed in such limited numbers that they command a high price on the secondary markets these days.  Thankfully there are still a few more affordable ones I need before I have to make that kind of a monetary commitment but I don't see them coming down in price any time soon!
That afternoon we caught additional performances by Britbeat and The Return at the fountain stage outside the hotel but we were really just killing time before the main event.  Abbey Road on the River 2014 culminated in a concert featuring John Sebastian followed The Beach Boys.  Seating was divided up into sections based on the type of ticket you had purchased and open within that area, so we lined up early and got to watch The Beach Boys sound check from the sidelines.  John Sebastian did a similar show to the one we had seen inside on Saturday but he did include a couple of extra Lovin' Spoonful songs that were a nice surprise.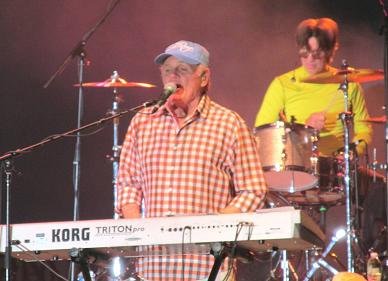 The Beach Boys took the stage at 8:30PM and immediately had everyone on their feet and grooving to some classic rock and roll.  This version of the group features original lead singer Mike Love and Bruce Johnston who has been touring with the group off and on since 1965.  In addition to a couple of fine guitar players, the group also included John Cowsill, the youngest member of – you guessed it, The Cowsills, on drums.   They gave a terrific performance and in many ways exceeded the 50th anniversary lineup which included all surviving original members of the group.  Unlike John Sebastian, The Beach Boys had no qualms about playing a few Beatles tunes or discussing the time Mike Love spent with the Fab Four in India.  Sadly they did not perform Thank You Guru Dev (aka Indian Rope Trick), an unreleased song which Love accompanied The Beatles on as a tribute to the Maharishi.
I can't speak for the rest of our group but I was well and truly Beatle-ed out by Monday morning.  Fortunately there really wasn't much to do then anyway except eat breakfast and head for the airport.  The 2014 Abbey Road on the River was a splendid time and fun was had by all.  The promoters do a great job but a little diversification could go a long way.  With all the tribute bands performing throughout the weekend it would be a nice change of pace to have a few who play the less well known or even unreleased material the lads did and even a few concerts of solo tracks would be enjoyable.  As a die-hard Beatles fan I can honestly attest that hearing the same track over and over again during the course of a long weekend can actually get old and it's not like the group doesn't have a huge catalog to draw from.  The show could also use a few more merchandise vendors beyond the plethora of T-shirts and the same two vintage dealers who were there two years ago.  It's nice to be able to purchase products from the guests but an indoor Beatle-Mart would be an awesome addition.  These constructive observations aside though, Abbey Road on the River was a blast this year and I have no doubt I will be back again soon!