August 11, 2010
"After Midnight" (1989)

Studio: MGM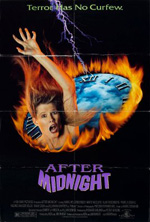 Starring: Ramy Zada, Jillian McWhirter, Marc McClure, Marg Helgenberger, Judie Aronson
Directed by: Jim Wheat and Ken Wheat
Rated: R
Running Time: 90 min.
Synopsis: Three tales told by a group of college students study fear in a psychology class.
REVIEW
After Midnight is an anthology horror film with three stories included with a wraparound story as well. Other classic anthology horror films, such as Black Sabbath, Tales from the Crypt, The Vault of Horror, Creepshow, and Tales from the Darkside deal mostly with monsters and other supernatural themes. After Midnight has that same vibe at first, but the stories deal with real life horror rather than ghosts, creatures, or zombies. Although the film is not as good as the films mentioned above, it's still a well done movie. There are tons of scary scenes with a cool creepy atmosphere, plus some good horror stories to boot, make this film worth watching. I remember seeing this film for the first time soon after it was released and it's still a fun film to watch.
The film starts off at a college campus in a psychology class that is studying fear. One part that sticks out during this scene is when the professor of the class tries to scare the tough jock that says he's not afraid of anything. The professor ends up pulling a gun on the jock and pulls the trigger. The chamber was empty and the jock is all right, but terrified to the point that he pissed his pants in front of the whole class. Due to these actions the professor must change his teaching methods and go back to a more traditional way, but he does tell the students if they want to really know fear they can all meet him after class at his house and he'll teach them what fear is all about.
About six students take him up on the offer and go to his house one night. Little do they know that the jock that was embarrassed in class is watching the kids go over to the professor's house. He ends up following them over there to see what they're up to. What happens after that is the students and the professor tell a few stories to scare the hell out of each other.
The Old Dark House: The first story of three, which stars Marc McClure (Jimmy Olson in the Superman films of the 70's and 80's) who plays a husband who is getting treated to dinner by his wife because it's his birthday. After dinner the two decide to go for a long drive by the ocean, but on that drive they get a flat tire and the only place to get some help is an old house on a hilltop. The house is so-called haunted because of murders that happened in it years ago. After seeing a light on in one of the windows, the couple figures new tenants have moved in and go up to see if they can use their phone to call for help, but help is not what they get.
A Night on the Town: Four teenage girls are out and about one night trying to have a good time. After a failed attempt to get into a club, the girls start driving all over town. They end up in a bad neighborhood and almost out of gas. The girls happen to find a rundown gas station, but instead of gas the owner of the place and his vicious dogs terrorizes them.
All Night Messenger: Marg Helgenberger (CSI: Crime Scene Investigation) stars in this tale as an operator for a telephone messaging service working the late shift. She starts getting constant calls from one man, who keeps on leaving messages for one of their clients. When the messages are given to client, she warns them not to take any calls from him anymore. Soon after that the deranged caller goes after the woman he's been calling for and then he goes after the operator.
The whole film has a great eerie feel to it that makes it fun to watch. All three stories that are told are pretty good with great scary stories and a well-acted cast. As I mentioned before, the stories are not your typical EC Comic tales that are often in anthology movies. These are thrillers, but with a classic scary story vibe. My favorite story of the three is All Night Messenger. The story that pits a woman all alone in a building late at night with a crazy stalker out there, who might be coming to get her. The whole story is just really scary and very suspenseful. The Old Dark House would be my second favorite. It has great atmosphere, an eerie old house, and a great twist ending. My least favorite was A Night on the Town. It's an all right story that could have been a little bit better. I thought the girls in the story were really annoying and I didn't really care what happened to them.
I also enjoyed the wraparound story with the professor and his students, which is a great story within its self. The beginning of the film starts off strong and is a great lead in to all the stories. At the end of all three tales the story continues with the professor and we finally figure out what happens when the pissed off (no pun intended) jock comes into play on that frightening night. There's also some cool twist and turns at the very end of the movie as well.
After Midnight is a good underrated horror film from the 1980's and a stand out anthology film as well. It has all the right elements, which are a good story, creepy settings, a great cast, and just eerie all around. The film is worth a look and if you are big into horror anthology movies this film is for you.