July 7, 2009
"Blood and Black Lace" (1964)

Studio: Allied Artists Pictures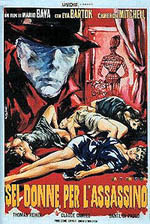 Starring: Cameron Mitchell, Eva Bartok, Thomas Reiner, Ariana Gorini
Directed by: Mario Bava
Rated: Unrated
Running Time: 88 min.
Synopsis: A killer stalks women at a fashion school in this Mario Bava classic.
REVIEW
This Mario Bava classic is an early giallo film that inspired many other filmmakers and filmmaking style through out the years. Some of the elements used in this film that are now used in almost every single slasher film are; a masked killer, graphic murders, high body count, and a who done it?
The film is a bout a fashion school where a woman is murdered. Police question students and instructors to see if anyone of them could be the killer. After the first killing, other women who are students of the school are murdered. The police have many different suspects, but can't pin point who it is.
Watching this you can see the craftsmanship of a great filmmaker. Beautifully shot and very stylish through out, Bava creates a giallo masterpiece. The film also has a classic look that consists of strong color in the picture that just jumps out at you and has a slick eeriness of atmosphere. Many of the European filmmakers such as Bava and Dario Argento, have films that are just works of art. Looking at this film I can tell how Bava inspired Argento.
They are many things that stand out in this film along with the pure creepiness and the style. The camera movements are very graceful through out. The score is thrilling and fits the film perfectly. The killer is very creepy, wearing a trench coat, fedora, black gloves, and wearing a thick white stocking for a mask, looking like they have no face. This look or parts of it would be imitated in other horror films. The use of the color red stands out through out the film. It's shown on a phone, curtains, a diary, lipstick, nail polish, and of course, blood.
Although, some parts of the film drag in places and the performances from some of the actors were not all great, it made up for it for its thrilling killing scenes that were very brutal for the time it was made and the whole look and feel of the entire film. Veteran actor and horror fave, Cameron Mitchell stars in the movie, but he doesn't really shine as much in this role like he does in others.
Sei donne per I'assassino, the film's original and Italian title, or in English, Six Women for the Murderer, the film has been given many different titles in all the countries it played. Whatever title you see it as, the film is a staple in the horror genre and a classic from Mario Bava.