April 6, 2011
"Blood, Boobs & Beast" (2007)

Studio: videokitchen.tv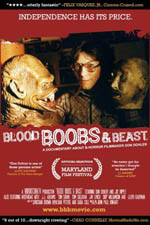 Starring: Don Dohler, Joe Ripple, Don Leifert, George Stover, J.J. Abrams, Tom Savini
Directed by: John Paul Kinhart
Rated: Unrated
Running Time: 75 min.
Synopsis: A documentary on legendary schlock filmmaker Don Dohler.
 REVIEW
This is the first time I will be reviewing a documentary for Schlockarama. Documentaries really don't fall in the schlock department, but in my opinion, this one does because it is about one of the kings of schlock cinema, Don Dohler, which would make this documentary a schlockumentary. I first saw Blood, Boobs & Beast before it was released on DVD when it was getting screened at Spooky Empire (then called Screamfest) in 2007 in Orlando. At the time I was not familiar with Dohler or his films, but after I watched the film I was an instant fan and wanted to see all of his movies.
The documentary covers his life and film career and inner cuts present day footage (well, present at the time of the making of the doc, which was 2005) of Dohler shooting a new film. The film opens very strong with Dohler telling a story about his 30th birthday and how he was working in an office with his aunt and a man came in and robbed the place. The robber told them to hit the floor and put a shotgun to their heads. At that point Dohler's life flashed in front of his eyes and as he thought about the good times with his family he also thought about the things he did not do. He always said he wanted to make a movie and if he got out of this alive he would pursue his dream. Luckily he did and shortly after that he started production on his first film, The Alien Factor.
If you have never seen a Don Dohler film, his films are basically ultra low-budget horror/sci-fi movies that are kind of a throwback to sci-fi monster films of the 1950's. He went from wholesome PG sci-fi to R rated horror films with tons of violence, gore, and nudity. His later films in the 2000's were shot on video and went straight to DVD, which did not capture the same charm and style his earlier films did. The documentary covers a variety of topics in Dohler's life, like how he started a fanzine when he was in high school called WILD, which was their version of MAD magazine. He also was in the mix when underground comics started in the late 60's with a character he created called ProJunior, which started as the mascot to WILD. He also published his own magazine in the 70's called Cinemagic, which featured articles and step-by-step instructions on special make-up effects for films.
The movie also covers his ups and downs with moviemaking and how he got sick and tired of it in the late 80's and retired for about a decade. When he went back into films, he had actor and friend, Joe Ripple direct while Don handled photography, writing, and editing. Between the segments about his life the film cuts into behind-the-scenes footage of Dohler and Ripple making their latest film at the time, Dead Hunt. The movie also shows Dohler's family life in Baltimore, Maryland and how he juggled between being a filmmaker and being a husband and father. The doc also includes interviews from family, friends, fans, cast and crew from some of his films, and interviews with filmmakers and special effects artists that he inspired such as J.J. Abrams, Tom Savini, Tom Sullivan, and Lloyd Kaufman.
This is probably one of my favorite documentaries of all time. It is done very simple, but it tells the story of his life in great detail and makes you root for Dohler every step of the way. Being a filmmaker myself, I liked the scenes with Dohler and Ripple making Dead Hunt because it showed the ups and downs to making a low-budget or a no-budget film. Many of the problems they faced with the production are the same problems tons of independent filmmakers face with their films, like actors not showing up and scheduling conflicts with cast and crew, and also trying to find time to make your movie while you have a full-time job.
Some of the entertaining parts of the film I liked were the many scenes from his movies and stories from cast members. Some of the funnier interviews were with the hard-core Dohler fans where some would know almost every line to his films. There were two that developed a drinking game when they watched Dohler's 1980 film Fiend and every time someone in the film mentioned the character's name Longfellow they would have to take a drink and say the name Longfellow while the alcohol was in their mouth.
Other moments of the film that I enjoyed were Dohler's way of making his special effects on a shoestring budget. He made a spaceship out of pipes and an electric toothbrush holder and was able to make it look like a giant spaceship by placing the model ship close to the camera while he had the actors way out in the background. So, in the camera, it looked as if they were walking up to a giant spaceship. Dohler made good of what he had to pull off his films.
The reason why the film is called Blood, Boobs & Beast is because this is what Dohler was told years ago that if you want to make a successful horror film you have to have these three elements in your movie. This phrase is said throughout the movie a number of times and one part has Ripple talking to Dohler after auditions for Dead Hunt and saying how he wants to cast an actress not because of her acting skills, but because she is willing to do nudity and then he says "You know we need blood, boobs, and beast to sell this film and we got the blood and we got the beast and all we need now is the boobs."
Director John Paul Kinhart does a fantastic job of putting together a well-constructed documentary about this filmmaker. I have to say other than the detailed movie career of Dohler there is a side to the documentary that is very heartbreaking that will make you really feel for Don. If you are a fan of Don Dohler and have not seen this movie you must go out now and watch it. Even if you are a fan of horror movies and schlock you will enjoy this documentary. Going into this film I did not know who Dohler was or what the doc was about, but after watching it I was glad that I did and I now have a great appreciation to the great filmmaker, Don Dohler.