March 31, 2010
"Devil Dog: The Hound from Hell" (1978)

Studio: Zeitman-Landers-Roberts Productions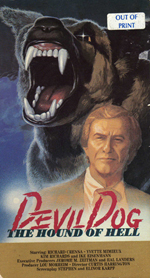 Starring: Richard Crenna, Yvette Mimieux, Kim Richards, Ike Eisenmann, Martine Beswick, R.G. Armstrong
Directed by: Curtis Harrington
Rated: Not Rated
Running Time: 95 min.
Synopsis: A new puppy a family get for their daughter turns out to be the hound from hell.
REVIEW
Throughout the 1970's they were a ton of great made for television movies and most of them were horror films. Movies like Bad Ronald, Gargoyles, Don't Be Afraid of the Dark, Trilogy of Terror, and so on, were films good enough to compete with any film that the major studios put in theaters. Most of all these made-for-TV movies had a good cast, good production value, and of course, a good story. The same goes for the 1978 made-for-TV film, Devil Dog: The Hound from Hell. I first saw this film back in the late 80's or early 90's on Superstation TBS and I enjoyed it very much. The film may not be the best, but it is very entertaining with an excellent cast and a scary story.
Since the release of The Exorcist and The Omen, the 70's produced a lot of devil themed films and this was one of them. A devil worshipping cult buy a female German Sheppard to have it mate with the devil or a devil dog. Not really sure because they never show anything, just strange noises. A family of four (father; Richard Crenna, mother; Yveette Mimieux, son; Ike Eisenmann, and daughter; Kim Richards) lose their dog when it's hit by a car right on the daughter's birthday. That same day, a man (played by R.G. Armstrong) drives up with a truck filled with fruits and vegetables, but that's not the only cargo he is carrying. Inside is the same German Sheppard that the cult bought but now it has a litter of puppies. The man gives a puppy to the brother and he tries to give to his sister. At first she doesn't want it, thinking no dog could replace her old one, but there's something different about this pup. She takes it and everything is right with the world or so it seems.
The whole family is happy with the new puppy besides the housekeeper. She senses that there's something evil about it. She tries to warn the father, but he just doesn't listen. One night, while the family goes out, the housekeeper lights some candles in her room to pray. Then the flames catch on her robe and she gets trapped in her room and is burnt to death. A year later, the puppy is now grown and the family just loves him. All of them expect for Crenna, fall into the dog's evil spell. The wife and children begin to act strange and it's up to the father to try and stop the Hound from Hell.
Although not a great film its great cast headed by Crenna and good story makes it worth watching. The whole cast is a great fit for the film. The mother and kids make a great transition from loving family members to evil and twisted. Crenna is the best of all the actors and you feel for him because he's trying so hard to stop the evil and for anyone to believe that his dog is the cause for all this. Also, many of the supporting characters in the film do a good job as well.
They are plenty of standout scenes in the film, such as when the dog is watching over the mother right before he possesses her. In the scene, the mom is sitting in the living room reading a newspaper and the dog is sitting there looking at her. Every time she looks up at the dog he gets closer to her until he's right next to her. Then there's the scene where the dog shows his true self which is an image of this demon dog surrounded by dark clouds. It's kind of cheaply done, but it works and is very creepy.
One part I could have done without in the film is when Crenna travels to South America to find a way to stop the dog. He tracks down an old man who paints a mark on his hand to help him destroy the demon. This part drags on a bit and slows the pace of the film. I know it was needed but they could have done it in a different way or shorten it up a bit.
The actors playing these cast of characters are very familiar ones. Of course Richard Crenna is known for his wide variety of work he has done on the big and small screen. Kim Richards and Ike Eisenmann are best known for their roles in Disney's Witch Mountain series and Richards is no stranger to the genre with roles in Assault on Precinct 13 and The Car, plus Richards and Eisenmann starred in many different TV series and movies. Yveette Mimieux who played the mother was also a well known TV actress, R.G. Armstrong had many great roles in film and television, and Martine Beswick, who played the leader of the cult, is famous for her roles in Hammer's One Million Years B.C. and Dr. Jekyll & Sister Hyde. She also starred in The Happy Hooker Goes Hollywood opposite Adam West.
Devil Dog: The Hound from Hell is one of those good TV movies that they don't make any more for television. It was part of that time where if it was made for TV it wasn't a bad thing because you saw some well made films that stood the test of time and are better than some of the films that play in theaters today. If you haven't all ready seen Hound from Hell, it is worth the look.