December 1, 2012
DVD Review – Big John, Little John: The Complete Series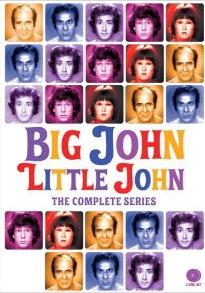 Released By: VCI Entertainment
Release Date: October 2, 2012
Number of Discs: 2
Approximate Running Time: 312 Minutes
Special Features: Stills Gallery, Episode Synopses, Series Synopsis
Suggested Price: $19.99
The Source:After taking a drink from the fabled fountain of youth while on a vacation inFlorida, a Junior High science teacher suddenly finds himself reverting to age 12 at random intervals.  Typical sitcom hijinks ensue as he tries to keep his job and hide his secret with the help of his wife and son.
The Fanboy Factor: Saturday morning television was littered with live action shows in the 1970's and who better than the king of prime time sitcoms, Sherwood Schwartz, to crank out a winner for sugar fueled youngsters.  By 1976, Schwartz was riding high on the syndicated success of his two best known properties, Gilligan's Island and The Brady Bunch (both of which had seen Saturday morning animated incarnations), when he pitched this fantasy mix up comedy to the NBC network.  It probably didn't hurt that Walt Disney had just released Freaky Friday in the theaters and scored well with a similar premise.
Big John, Little John was produced with the same level of quality usually reserved for prime time shows.  It was shot on film and stars veteran TV actor Herb Edelman as Big John.  His younger incarnation is played by Robbie Rist, the infamous Cousin Oliver who added a level of annoyance to the final season of The Brady Bunch that had previously seemed unachievable.  Speaking of Bradys, the role of John's wife Marjorie went to Joyce Bulifant who had originally been cast and then uncast as Mrs. Brady prior to Florence Henderson.  While this may not seem like an acting powerhouse today, by 70's Saturday morning standards this was an all star cast!
 The production values may have been exceptional but the writing never rose above the level of a typical kid's show.  Each episode had Big John turning into Little John, who was explained to the rest of the cast as his visiting nephew, at an inopportune time.  He and his family would have to stall and/or come up with some clever way to hide the fact that the two Johns were one in the same until he could conveniently return to his true age in the nick of time.  It wasn't high drama but it did provide a few chuckles for the short pants crowd.
Big John, Little John ran for one brief season of 13 episodes on NBC and then vanished into obscurity like a lot of children's programming which was deemed to have little or no syndication value.  In 2009, Virgil Films and Entertainment rescued this series and the vastly superior Monster Squad  from the great beyond but they were unable to get this set released before their DVD division folded.  Thankfully, VCI has picked up the ball and released both series to the general public in editions almost identical to the originals.   
 The Product:  As previously mentioned, Big John, Little John was shot on film so it holds up much better than the usual video taped Saturday morning fair.  The picture has some grain to it but that is pretty much how I remember it looking in the 1970's so it remains true to form.  The extras on this two disc set are almost nonexistent.  The touted series and episode synopses are copied from the liner notes on the case and the "stills gallery" consists of two screen captures of Robbie Rist.
 The Bottom Line:  Big John, Little John is an enjoyable slice of forgotten 70's Saturday morning entertainment.  It has more merit as a snapshot of it's time than as enduring entertainment but it will appeal to the audience who appreciates rare television shows. Pick up a copy of the complete Monster Squad series on DVD along with this one for a Saturday morning flashback double feature!