September 20, 2010
DVD Review: "Dark Night of the Scarecrow"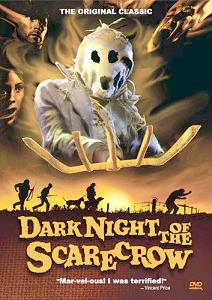 Released By: VCI Entertainment
Release Date: September 28, 2010
Number of Discs: 1
Approximate Running Time: 96 Minutes
Special Features: Director Commentary Track, Original CBS Promotional Spot
Suggested Price: $19.99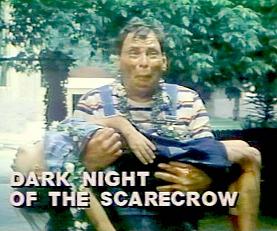 The Source:
In a small rural town, a mentally handicapped man is murdered by a group of locals over a misunderstanding involving a young girl. After being vindicated by the law, the men are targeted, one by one, by an unseen assailant who appears to be the dead man returned to life. They must discover if it is the outraged District Attorney, the murdered man's distraught mother, or someone else who is exacting brutal vengeance before it is too late.
The Fanboy Factor: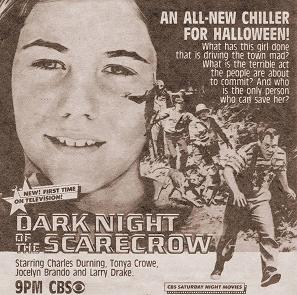 Dark Night of the Scarecrow was one of the last hoorahs of made for television movies. It was originally broadcast by CBS a week before Halloween on October 24, 1981. I still vividly remember being glued to the tube that Saturday night in my parent's darkened living room all alone. The advertisements for this film made it look extremely creepy and I could tell, only a few minutes into the movie that it would not disappoint.
The film benefits from a very solid cast headed by Charles Durning, in rare villainous role, as the town's Mailman with delusions of authority and implications of pedophilia. The mentally challenged man is portrayed by Larry Drake who would make a career of playing similar roles with both sympathy and conviction. He is only on screen for the first portion of the film but his presence is felt straight through to the end. Several other character actors, like Lane Smith as one of the corrupt locals and Jocelyn Brando as Drake's mother, round out the cast with strong performances that never distract from the story.
Made for television movies, especially by the time this one came out in the early 80's, were hampered by their restrictions on using gore, nudity, or explicit violence. To compensate, they delivered entertaining stories loaded with atmosphere and suspense. Dark Night is a prime example of this with characters the audience care about, villains that are more than one dimensional and just enough supernatural elements to keep the plot moving but not overwhelm it.
The Product: 
VCI has done a very nice job with the digital remastering on this film. The picture is sharp but not brightened to the point of compromising the dark tones. A new 5.1 surround sound soundtrack has been created for the film that sounds great but the original soundtrack is included on an alternate channel. While the extras may not stack up well against current theatrical products, they are lavish by the standards of television movies. A commentary track is included with director Frank Felitta and writer J.D. Feilgelson that gives some interesting details behind the production. To this fanboy though, the real gold nugget here is the original CBS World Premier Movie promotional spot. For anyone who grew up watching made for television movies, this preview will bring back some great memories. For anyone who didn't, it demonstrates the kind of anticipation broadcast television was once capable of generating.
The Bottom Line:
Dark Night of the Scarecrow is a terrific little low key thriller that is long overdue for release on DVD. VCI has delivered one of its nicest packages to date and does justice to this cult movie. This DVD is highly recommended for fans of mystery, suspense, and the supernatural and is perfect for a Halloween revival screening.