January 18, 2013
DVD Review – Get a Life: The Complete Series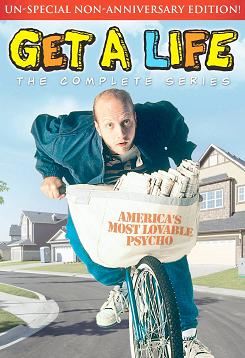 Released By: Shout Factory
Release Date: September 18, 2012
Number of Discs: 6
Approximate Running Time: 840 Minutes
Special Features: Commentary Tracks, Featurette
Suggested Price: $19.93
 The Source: Chris Peterson is a 30 year old paperboy, or head paperboy as he is usually quick to correct others, who still lives at home with his parents.  From the safety of his suburban surroundings, Chris has all sorts of bizarre adventures that take him all over the world and even to the moon but only make sense in his warped mind.
The Fanboy Factor: The Fox Broadcast Network was in it's infancy in 1990 when they gave the green light to Get a Life.  The four year old fourth network was struggling to attract viewers and while most of their more traditional situation comedy programs had failed to find audiences, one ribald, cutting edge, show, Married with Children was a hit.  Their search for more off the wall programming led them to Chris Elliott, a comedian who was best known at the time for creating crazy character bits on Late Night with David Lettermen.  Elliott had an idea for a show he would star in about a character that refused to grow up, much to the disdain of his friends and family. 
 Fox paired Elliott with producer David Mirkin who had worked on The Simpsons and had recently left the oddball CBS comedy series Newhart.  The two concocted an off kilter world for Elliott's character, Chris Peterson, to live in where things looks normal from a distance but turn out to be anything but on closer inspection.  In a brilliant bit of casting, Eillot's real father and fellow comedian Bob Elliott played his dry witted, acid tongued father on the show.  He was tempered by sitcom staple Elinor Donahue as his dedicated but slightly demented wife.
Much of the show's first season involved Chris's relationship with his best friend Larry who had continued to mature past the level Chris stopped at but often wished he hadn't.  Larry was the typical middle aged man with a wife, two kids and a boring job he hated.  It wasn't very difficult for Chris to reawaken the child inside of Larry and Larry's social climbing, image conscious wife Sharon hated him for it.  This setSharonup as the perfect villain for Chris to conflict with and some of the best moments of the show result from their interactions.  In one episode Chris becomesSharon's houseboy slave and is nearly brainwashed into a mindless drone.  In another,Sharonalmost becomes physically ill trying to be nice to Chris to convince him to return to the play Zoo Animals on Wheels!
 Unfortunately Chris Elliott gave Fox everything they had asked for and a little more and then found himself in a constant battle with the network who now wanted the sitcom to be more normal.  While the ratings for the first season were good by Fox's standards, the show was initially canceled until Elliott and the producers agreed to make a few changes to appease the network.  Like the surreal world of this series though, nothing turned out quite the way it was supposed to.
For the second season, Get a Life went in the one direction no one would have suspected when Chris moved out of his parent's garage.  The network wanted Chris's character to grow up so he got a place of his own in the garage of an alcoholic ex-cop played by Brian Doyle Murray. Murray's Lou was very much a substitute father figure for Chris and in many ways created an even more demented dynamic with Elliott than the first season's family unit had.  The plots for episodes became even more far out when Chris becomes a genius at spelling after being exposed to nuclear waste, travels through time to try to save Lou's job, and helps a stranded alien who turns out to make a great late night snack!
 If Fox was concerned about the first season of Get a Life, the second had them running for the hills!  The show bounced from time slot to time slot often at hours when many of the affiliates had already switched to local programming.  This derailed the cult following the show was rapidly building in the first season and effectively ended any hope of it continuing on for a third.  It was canceled at the end of the second season and only syndicated briefly on the USA Cable Network.
The Product:  Once again, Shout Factory has rescued a worthy series from the depths of obscurity and given it a first rate home video release.  The show looks and sounds great including the theme song by R.E.M. – Stand, which was removed from most syndication broadcasts.  Extras include a featurette on the making of the show, multiple commentary tracks from producer David Mirkin and Psychologist Dr. Wendy Walsh, a full color episode guide booklet, and footage from a 2000 fan convention that reunited many of the cast and crew.  Also worth noting are the discs' clever menus which replicate the front page of Chris's paper, The Pioneer Press, with photos and stories from each volume. The one glaring omission from this set is any participation from Chris Elliott himself.
 The Bottom Line:  Anyone who remembers this series is going to want to see it again and anyone who enjoys quirky comedies needs to see it for the first of what will be repeated viewings.  I remember the show fondly from its original airings but was shocked at how many episodes, especially from the second season, I had never seen before.  Get A Life: The Complete Series is highly recommended.