March 2, 2011
"Maniac" (1980)

Studio: Magnum Motion Pictures Inc.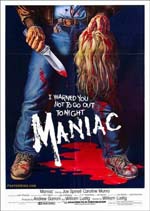 Starring: Joe Spinell, Caroline Munro, Abigail Clayton, Kelly Piper, Tom Savini
Directed by: William Lustig
Rated: Unrated
Running Time: 87 min.
Synopsis: A crazed man roams the streets of New York City killing young women.
REVIEW
1980's Maniac came from the slasher craze at that time and is one of best films from that sub-genre. In my opinion, Maniac is more of a serial killer movie than a typical slasher film, because the movie is told through the eyes of the killer instead of teens at a summer camp or at a high school. There were not too many films like this at the time where the lead actor was the killer and star of the film. The movie is filled with suspense and the Maniac himself, played by actor Joe Spinell, steals the show and pulls off the crazed creepy killer.
Spinell plays Frank Zito, a man you lives in a rundown one room apartment in the underbelly of New York City, who happens to roam the streets at night and murders mostly young women. Frank has many different ways of killing, which is by knife, gun, or his bare hands. He always takes a souvenir from his female victims, where he scalps the top of their heads and brings it home along with the women's clothes and dresses up a mannequin and nails the scalp on the mannequin's head.
We see the day-by-day life of a serial killer as we watch Frank stalk his prey, murder, and deal with his demons. We see Frank wake up screaming from a nightmare, talk to his mannequins, stare off into space, and hear about his dead mother. Frank actually befriends a photographer named Anna, played by former Hammer and Bond girl Caroline Munro (The Last Horror Film, Slaughter High) and starts a relationship with her. Frank still continues his murderous ways while seeing Anna, but will she become one of his victims after all?
Maniac is a great horror film, which has a good story, very character driven, tons of suspense, and plenty of scares. There are a lot of great scenes throughout, but the two that always stick out are when this guy, played by Tom Savini (who also did the effects for the film) and his girl are parked somewhere and Frank shoots Savini in the face making his whole head explode. The scene seems to be inspired by the Son of Sam killings because of the couple in a parked car and Frank using a gun to kill them. The other scene is when Frank is stalking a nurse in the subway. This is a very suspenseful scene and one of the best chase scenes that involves a killer and victim in a horror film. Also the score of the film is another standout. At times it is very soft when Frank is sitting alone in his apartment and other times it is creepy when he goes after his victims, but all of it is very haunting.
Joe Spinell, who has been in some of the biggest films during the 70's like The Godfather, The Godfather Part II, Taxi Driver, Rocky, and Rocky II, has never had a leading role in a film until he did Maniac. Spinell often played parts where he was only on screen once or twice and had very little lines, but you always remembered him. In Maniac he proves that he can play a leading role and carry a film. Spinell looks and acts the part of psycho killer Frank Zito. Spinell even has that creep factor in the way he looks, walks, acts, and dresses. He looks very disturbing when he stares off into space while we hears a news broadcast in the background talking about the murders. Also, the scenes with him and the mannequins are creepy as hell. Those parts of the film remind me of a short film that played on USA's Saturday Nightmares called Living Dolls, which also includes scary mannequins.
A weird part in the film is when Frank first meets Anna. She is in the park taking pictures and she happens to take a photograph of Frank while he is out walking. As Anna is walking through the park, Frank approaches her bag, which she left by a tree, and gets her address. You think he would just go to her house and kill her, but he goes there to meet her and ask her on date. The weird thing about it is when he comes to her door, he just says "I'm the man you took a picture of in the park." and she just happened to be developing it and then Frank asks to look at her artwork and the two start talking like they have know each other for years. Frank also pulls back the creepiness and puts on the charm and actually acts like a normal person. He tells her that he is a painter and acts all artsy and this gets Anna interested in him.
Here is some interesting information, the song Maniac by Michael Sembello from the film Flashdance was actually based on the horror film by the same name. Sembello and Dennis Matkosky wrote the song after Matkosky saw the film one night. When offered to do a song for Flashdance, they used Maniac and just changed the lyrics to fit the film. Also a sequel to Maniac was going to be shot called Maniac 2: Mr. Robbie, directed by Buddy Giovinazzo of Combat Shock fame. Spinell was to play a kid's show host who murders parents that beat their kids. Only a scene was shot of the film because they could not find financing for the feature. The scene to this film is an extra on the Combat Shock DVD.
William Lustig, who produced and directed the film did an excellent job and was able to create a memorable terrifying horror film that is still talked about today. Lustig went on to direct Vigilante, Maniac Cop and its two sequels, Relentless, and many others. He is also the CEO of Blue Underground, a DVD distribution company that puts out many classic rare horror films of the 70's and 80's. Joe Spinell went on to do more minor parts in major films and starred in another horror film with Munro called The Last Horror Film. Spinell died in 1989, but left his mark on cinema and who knows what other films he could have made in the world of horror.
If you have not seen Maniac, go out and see it now! This is one of the best from the 80's slasher films and is very unique compared to other films in the sub-genre. Maniac was also one of those films that came under controversy because of its extreme violence and even the theatrical poster came under fire, which shows the legs of a man holding a knife in one hand and a bloody scalp in the other. The man in the poster also has a bulge in his jeans, which caused a big up roar. Controversy is one of those things that made these horror films great and memorable.