March 27, 2012
Megacon 2012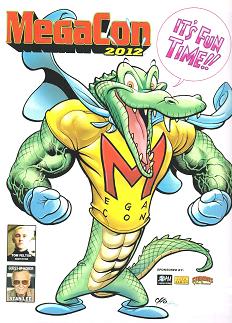 Low expectations aren't necessarily a bad thing.  When I was asked in advance of this year's Megacon if I was looking forward to it, I had to grit my teeth and utter a tentative "maybe".  The two main factors that I look for in Megacon, guests and comics, both looked dubious at the outset.  The guest list this year contained no one I either wanted to meet, hadn't already met, or was willing to pay above the normal autograph price for.  Due to the current economic situation, the prices on collectible comics have plummeted online and I have spent the last six months or so increasing my collection for pennies on the dollar of what prices would have been five years ago.  I was afraid that, based on experience in previous years, the dealers at the show wouldn't be willing to discount that much and I don't believe in paying more than I have to for anything, especially superfluous items like collectibles.
It was with no small amount of trepidation that my wife Cindy and I left for Orlando on Saturday morning, February 18.  We met our friend and Orlando resident Walter Williams a few blocks away from the Orange County Convention Center and drove in together to avoid having to pay the $8.00 parking charge on two vehicles.  Walt was our canary in the fandom coal mine this year as he is not a collector and had never attended a show like Megacon before.  He and I have spent many hours trading nostalgia though and I knew this show was something he needed to see at least once.  He was kind enough to drop Cindy and I off at the front of the building so we could pick up our passes and head in a few minutes before the 10AM start time to get some photos of the dealer's displays before the crowd rolled in.
I am always amazed at how smoothly this show runs considering its formidable size.  There were no hitches getting our badges although I did notice some poor guy in a black ops type military outfit having his toy machine confiscated and securely taped up in a trash bag by one show employee while I was in line.  Apparently there was a no weapons policy that I was unaware of but since I wasn't dressed as Mad Max or the Terminator it didn't effect me anyway.  I noticed as soon as we walked inside that the layout and organizational plan had changed this year.  The aisles were lined up facing one predominantly empty hall rather than the doors leading into the open hallways of the convention center.  As I found out a few minutes later, this empty space served as a holding area for people waiting to get in, which wisely kept the hallways flowing.  It was quite a site to see the tidal wave of rabid comic book and anime fans come cascading into the room when the doors opened.
Also new this year was a greater division of merchandise which made traversing this massive event much easier for a focused collector like me.  The con was divided into four areas, one for anime, one for comic books, one for general merchandise, and one for guests and artists.  This meant that rather than have to trek through the whole show looking for just the comic book dealers, I could concentrate on what was basically a mini-convention of just comics within the larger event.  I found being able to skip the things I wasn't interested in saved me a lot of walking and made the comic shopping more enjoyable since everything was all together in one area.
My fear of not buying anything this year was alleviated almost immediately when I picked up a copy of the very first issue, even though it's marked number 4, of DC 100 Page Super Spectacular.  This 1971 inaugural issue titled Weird Mystery Tales features one hundred advertisement free pages of classic horror and science fiction stories edited by the legendary Bernie Wrightson and it was mine for the very reasonable price of $10.00.  I followed this up by running into one of the dealers I regularly purchase from who was very anxious to recover a portion of his table fees and saw me coming.  He didn't have anything earth shattering but I did purchase some gap fillers I needed mainly from the 70's along with some earlier Sea Devils and Green Lantern comics and few issues of Famous Monsters he insisted on lowering the prices on until I just couldn't leave them on the table!  We discussed the current state of the economy and its effects on collecting and he confessed to doing fewer sales on Friday than he was hoping for.  I was very happy to help him get off to a good start on Saturday and I wished him continued success for the remainder of the show as I set off to peruse more booths.
As I rounded one corner of an aisle and started to head down another, I suddenly stopped and uttered one of the most overused comic book clichés of all times to Cindy – "my spider senses are tingling"!  Walt had joined us inside by this point and the two stared in curiosity as I pointed out the side of a booth a few aisles away that had unbagged comic books sitting in stacks all along one side table.  This sight would not have been so unusual if I had not been able to tell from the crinkled edges that these were older books and not the current issues you usually find being sold this way.  I made a beeline to the table and was delighted to see that not only was I right but that these books comprised some hardcore Silver and even a few latter day Golden Age comics and everything on the table was only $3.00!  I tore into the stacks like a starving man into a roast turkey and eventually surfaced with some ten cent Blackhawk and World's Finest comics, a couple of Brave and the Bold issues, and a few other odds and ends.  As I moved forward, the next table at this booth was similarly organized but the books were bagged and boarded and $10.00 and the next table's selection went up to $20.00.  With each price increase, the coolness of the comics went up exponentially. 
I finally made it up to the front and met Richard Muchin of Tomorrow's Treasures out of New York.  He told me that he had picked up a huge comic book collection, ranging from the late 50's to the early 70's, so recently that he hadn't even had time to go through everything yet and that was why he was dividing them up the way he was.  He directed me to a single box of key DC Silver Age issues that he had been able to go through and I was in Fanboy heaven.  I finally left his table with three of the six Brave and the Bold try out issues for the Silver Age Hawkman including his first appearance in #34, an Atom #1, Green Lantern #8, Showcase #39 (third appearance of the Metal Men) and my purchase for the show – Showcase #34, the first appearance of the Silver Age Atom!  The prices were nothing short of astounding for these hard to find comics and even though it was only about 11AM when we walked away from the booth with my satchel sagging under the weight of the paper, I told Cindy I was good to go for the rest of the show!
 It wasn't time to leave the show yet, no matter how pleased I was with my purchases.  I still had half a hall of comic dealers to go through and was supposed to meet up with my friend Richard Blair who had brought his family for their second time at Megacon.  Rich and I had been coordinating by phone all morning and we finally converged for real a short time later.  Also with the Blair clan was friend Ken Fees fromJacksonvillewho has joined us on a few adventures in the past.  We rallied for several minutes to discuss strategy since the Blair group had just arrived and the Tucker group was nearing the final laps.  We ultimately decided to split up and then meet back at the front at 1PM for lunch.
While Rich went to check out the anime area, Cindy, Walt and I decided to make a tour of the general merchandise area.  Bootleg DVDs continue to decline in presence at these shows but there were still several vendors offering black market merchandise.  Another disturbing thing I noticed this year was a table apparently offering CGC grading of your comic books while you waited at the show.  I didn't see anyone taking advantage of the service when I walked by but the two people at the table were busy sealing comics in plastic packages as quickly as they could which made me wonder exactly how much effort went into this grading that is supposed to be so thorough. T-shirts and clothing are always popular items as well as modern toys, models, and posters.  There were a few dealers with vintage toys and the prices were not too out of line but I didn't see anything that really appealed to me.  It was a typical case with the current merchandise of most of it being readily available and usually cheaper online.
It may have been the new segregated areas and the fact that I made an effort to avoid the anime portion but the number of patrons in costumes appeared to have diminished this year.  Those people who did attend in costume seemed to be favoring less elaborate and bulky outfits in favor of ones that were easier to maneuver around the convention.  Given how cramped this show has gotten in the past, it's hard to blame anyone for not wanting to walk around in a giant cardboard robot suite the entire day no matter how cool they think it makes them look.  Golden Age superhero fan that I am, my favorite costume this year was a gentleman dressed as the original fastest man alive, the Jay Garrick version of the Flash.  There were numerous runners up though including some escapees from the popular television show The Walking Dead and a creative female version of the He-Man villain Skeletor.
We decided to make a pass through the guest area just to kill some time since I had already opted against getting any autographs this year.  The guest of honor this time was Marvel Comics legend Stan Lee who had also attended last year and, just like last year, I had no intention of paying $85 to meet him and get an autograph.  The convention continued their new "black out" policy by having Lee shrouded in an area covered in dark panels so he could not be even accidentally glimpsed by those unworthy patrons who had not paid the price.  The other featured guest this year was Harry Potter's Tom Felton, the effeminate and ineffectual young villain, Draco Malfoy, who somehow still manages to appeal to teenage girls.  Aside from this it was the usual crop of repeat offenders including Bruce Boxleitner, Robert Picardo, and Cindy Morgan who should probably have their mail forwarded to the Orange County Convention Center.  One disturbing trend I noticed this year was a general increase in the autograph prices from many of the guests even though nothing has occurred in their careers to warrant it.  Stephen Furst, best known as Flounder in Animal House and for a role on television series Babylon 5, was up to $30 and Valerie Perrine who played Lex Luthor's moll in the original Superman film series and porn star Montana Wildhack in a personal favorite of mine, Slaughterhouse-Five, was up to $25, so she missed my money.  In a really odd changeup, Star Wars suit actor David Prowse, who played Darth Vader, had actually lowered his autograph price to the standard $20 even though the actors from the original version of this series have traditionally always charged a premium for signatures.
It was getting close to lunch time so we headed out to the lobby and eventually managed to reunite with Rich's group.  Even with the improved layout, the halls had still filled up and traversing between the aisles was becoming difficult so I was more than ready to call it a day and partake of some much appreciated Chinese buffet.  We walked out to Walt's car and then drove the short distance to the restaurant but Rich was nowhere to be found.  When I eventually called him we found out his group had attempted to take a shuttle to their vehicles but it had collided with a car en rout and they were eventually forced to walk the rest of the way.  Fortunately no one was injured and they did finally join us about half way through our meal.  We were in no hurry to go anywhere anyway so we compared convention stories and relaxed while they caught up on the chow line.
 After lunch we all departed with Walt and Cindy and I calling it a day while Rich and crew returned to the show.  I have never gone back for the afternoon at Megacon before but Rich confirmed later that the halls remained packed until well after the posted closing time for the day.  Walt decided that, while he had a good time and saw a lot of stuff that brought back great memories, this was not the kind of thing he would do on a regular basis.  His one proud purchase for the show was a 1950's Henry comic book (remember the bald little boy in the red shirt and black short pants who looked more like an 80 year old man than a child?) since he prefers the more traditional funny comics and it gave him a souvenir of his adventure into fandom.  I walked away extremely pleased with my lucky role of the dice this year where Silver Age superhero comics were concerned and couldn't wait to get home and start reading.  It just goes to show that with an event this size, anything can happen so it's always worth checking out!
 Special thanks to Cindy  Tucker and Walt Williams for contributing photographs for this article.