April 4, 2014
Megacon 2014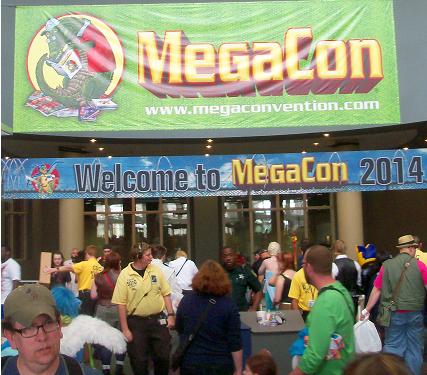 I have always believed that there is an entity or entities that protect the fanboy in his pursuit of fandom and after Megacon 2014 weekend in Orlando I am certain of it.  I have always been a creature of habit when it comes to this show and am used to daytripping Megacon in one long, fun Saturday.  This year, for no particular reason, I decided at pretty close to the last minute that I would go down on Friday afternoon and stretch the festivities over two days for a change.  In the end this proved to be an excellent choice and increased my enjoyment of the event exponentially.
Since I was adding a second day on to my Megacon adventure this year I really wasn't in a rush to get there on Friday, March 21.  The show was once again held at the Orange County Convention Center but this time it was in the South Hall which is part of the new area and not as conveniently located as the original building.  I met my friend Danny for lunch nearby and checked into my hotel before finally heading over to the show.  I had lucked out and found a great reasonably priced room at the nearby Crowne Plaza Hotel.  It wasn't within walking distance of the show by my standards but it was an easy drive.
I knew I had friends to coordinate with who were also attending on Friday but it seemed like their schedules were no more rushed than mine was that day.  I realized walking in that it was going to be a busier day than I anticipated but it still didn't seem as crowded as the average Saturday in the past.  I had no sooner picked up my badge than I saw my friend from Jacksonville and first time Megacon attendee, John McGahey, headed my way.  He was in Orlando partly on business, partly for another event his daughter was attending and partly for Megacon.   He was more than a little excited to get his first ever Megacon adventure started so we made haste downstairs into the bowels of the convention center and the heart of the show – the dealer's room!
John is no stranger to cons but I had duly warned him that Megacon wasn't going to be like any of the more conventional collectibles shows he was used to.  Vendors at this show can be divided into four categories – anime, cosplay, comic books, and other.  The "other" portion usually consists of stragglers of other merchandise like toys, video games, T-shirts, etc.  At one point Megacon had made what I considered the brilliant move of grouping like vendors together in one area but this idea seemed to be discarded after one year.  We wandered into this mix and did our best to stay on track but it was very easy to get distracted in this sea of ephemera!
I was quite happy to see most of my regular comic book suppliers back for 2014 including a couple like Tony Hines and Joe Peace from the North Florida area.   One vendor I at first thought was missing but discovered towards the end of our visit was Tomorrow's Treasures from New York, who it turns out John was old friends with.  I picked up one of my buys from the show from them, my first issue of the Golden Age comic All Flash starring, you guessed it, the Golden Age Flash!  These guys never cease to amaze me with the assortment of reader quality books they have from the Golden and Silver Age of comics and their pricing strategy of grouping everything on tables running from three to twenty dollars each and then passing into the "make offer" pile makes them a popular stop with other dealers as well as collectors like me. I was reluctant to come off of too much cash on Friday since I figured there would be better deals to be had on Saturday once the show got into full swing but I did splurge on a couple of vintage Star Wars figures I needed to help complete my collection.
After catching up with my other friends from Jacksonville, Richard Blair, his wife Connie, and Ken Fees and friends from Winter Haven Sean McFadden and his mother Lillian, John and I ventured over to the guest area.  The big guest news for this year was the appearance of several members of the cast of the hit television series The Walking Dead but none of them were in attendance when we stopped by.  There was also a mini-reunion of the cast of the 70's version of Battlestar Galactica including stars Dirk Benedict and Richard Hatch.  There weren't many people in this area so we took the opportunity to speak with Richard Hatch for a few minutes.  John debated the merits of the original series versus the recent one with him before I jumped in and asked a question I had wanted an answer to for years – why Mattel never made a figure of his character Apollo in their toy line.  Apparently this was a querry he hears frequently because I barely got the words out before he answered.  According to Hatch his agent advised him against authorizing the use of his likeness for a figure and those cast members who did never got paid for it.  This may explain why the Mattel line only featured three human characters from the show but included aliens who only had a few moments of screen time in the pilot.  Thanks for clearing that up Richard!
We were nearing the 7PM stop time for Friday so John and I parted ways for our respective hotels with plans to regroup in the morning.  Richard and his family were hanging out at their hotel for the evening so I had dinner with Sean and his mom at the very impressive Vito's Chophouse on International Drive.  They haven't steered me wrong on food yet and Vito's is definitely a place I will try again although probably not on a Friday night with so many events going on in town.  Our dinner stretched out into an over two hour affair so it was after 9PM when I returned to my hotel and decided to call it a night.  Sean and Lillian checked out one of the after parties at Megacon which they described as "crowded" and "worth the $10 admission but not any more" while I packed it in with the anticipation of an early start the next day.
The general plan agreed upon for Saturday was that we would all meet up at Megacon around the official 10AM start time with the exception of John and I who were getting their earlier.  I arrived at the convention center around 8:30AM and was shocked to see a huge line of people stretching around the building waiting for ticket sales to begin!  I had been told the previous day that advanced ticket sales were estimated at a record of 31,000 and door sales usually accounted for one to two thirds of the overall admissions.  I still wasn't prepared for this kind of crowd so early or for getting directed to parking in the North section when there was still plenty of spots available closer to the entrance in the South side.  I had dutifully paid my $9.00 parking fee and started my hike to the main entrance.
When I got inside the show I seized the opportunity to take some unimpeded photographs of the impressive booth set ups and talk to vendors as the ever swelling crowds outside began to mill pensively like a horde of the zombies on The Walking Dead.  I was more than a little nervous when the barriers were dropped and the tide came in like so many piranhas in a feeding frenzy.  In past years it has usually taken about ninety minutes to two hours for Megacon to really fill up on a Saturday but even in this larger area the place was packed by 10:30 and it was difficult to move through the aisles.  I trudged my way through the writhing mass of people to one of the snack bar areas where a sizable number of attendees were already chowing down.  It seemed strange to me that these people would go through so much to get in and then stop thirty minutes later for breakfast but to each their own. I grabbed a seat and proceeded to attempt tracking down my comrades who were so far MIA.  As it turned out, John was held up with work duties, Rich was having trouble getting his gang, which also consisted of no less than seven teenage girls, moving in the right direction and Sean and his mom were recovering slowly from the night before.  I quickly realized that I was going to be the Lone Ranger until lunch time I decided to attempt some more shopping.
Wading back into the crowd, I tried to drift into areas that were less packed and thankfully a few of the comic book vendors' tables were still accessible.  I managed to pick up a few more reasonably priced Golden Age books and added some issues of Feature Comics starring Doll Man and Crack Comics with Captain Triumph to my collection.  Tomorrow's Treasures had replenished there inventory and I managed to pick up a couple more Silver Age gems from them.  My Saturday score though was a trifecta of single issues I needed to complete three series I have been collecting – Inferior Five, the DC run of Captain Marvel in Shazam, and best of all one of my favorite of DC's unique 60's series Metal Men!  As discouraging as the crowd was I would still have to say it was a good day.
In the course of fighting the ever growing swarm of attendees I passed by the guest area and noted a rather amusing delineation.  While there were probably around a hundred fans in the left hand side where the older guests were, you couldn't shoehorn another breathing body in the section where The Walking Dead people were set up!  Even though all of the Battlestar Galactica stars have been at Megacon before as well as many of the other guests, there was a notable lack of the repeat offenders this year who have seemed to live at this show in the past.  It's nice to see that the older guests still have some fans but it was pretty clear the Walking Dead fans were out in force!
About the time I was getting my fill of the crowd around noon, Sean and Lillian finally arrived.  I had only been hanging out with them for a short time when I got almost simultaneous calls from Richard and John informing me of how bad the traffic was coming into the show and how there was no way they could make it anywhere close to the convention center before our agreed upon time of 1PM for lunch at the nearby Maggiano's.   I decided to ere on the side of caution and excused myself to hike back to my vehicle and see what kind of a drive I had ahead of me.  Much to my surprise, my current companions agreed to meet up with the rest of my group for lunch but they were going to hang out at the show a little longer.  On the trip to back to the North lot I noticed that all of the convention center parking was filled up and arriving cars were being parked in the dirt almost to the road.  I can only assume that they were close to having to turn people away and the show had only been going for a little over two hours that day!
Thankfully once I figured out how to get out of the parking lot and traversed the road blocks and police officers directing traffic, I managed to make it to the restaurant in short order.  I reserved a table large enough for our group at 1:30.  Thankfully all but John made it there by the revised time and even he was only a few minutes late.  As I listened to the tales of terrible traffic I was thankful that my 2014 Megacon trip was over but I felt sorry for my friends who still had to go that day and others who said they were attending Sunday.  Posthumous reports indicated that Saturday afternoon calmed down but not by much and Sunday was close to equally as busy.
The 2014 Megacon was in a larger area and while they still have space to expand the show inside the convention center it's obvious that the parking area and infrastructure of Orlando are at capacity.  The only possible solution that I can see is to split the show in half and hold an anime / cosplay convention at one time and a con for comic books and miscellaneous merchandise at another time.  While some vendors might prefer a larger crowd and there would not be a one hundred percent cross over between the attendance of the two events, it doesn't do much good to have that many people at a show when most of them can't even see, let alone get to, your booth to buy merchandise.  One thing is for sure though; I am now firmly committed to attending Megacon on Fridays so that anything I get to do on Saturday before the crowd becomes overwhelming will just be a bonus!
Special thanks to John McGahey for additional photos for this article.