February 14, 2005
REMEMBERING DR. PAUL BEARER
It's hard to believe that February 18, 2005 will mark the tenth anniversary of America's longest running horror show host. Creature Feature is still so fresh in my mind that it seems like it has only been a few weeks since I last watched it (thanks to the miracle of video tape it probably was). Thankfully we now have the permanent Creature Feature database on Crazedfanboy.com to remind us of how much fun and entertainment Dr. Paul Bearer brought into our lives and as it continues to grow, I've begun to realize just how amazing a time it was. By now almost everyone reading this webzine knows of my great admiration for Dr. Paul Bearer, so I thought I would turn this brief tribute over to a couple of fresh voices.
First up is "Our Man in Tampa Now Transplanted to Nashville for some Ungodly Reason", David Polk:
My memories of Dr. Paul Bearer? I remember when he first was on Channel 44 in 1973! It was cool to watch him and the really bad movies he had! That is where I got the love of bad films from! In the mid 70's his show ran for 3 hours on Saturdays with 2 movies and the 1939 Buck Rogers serial between films. There also was his singing at the piano with Tom Leher songs like "Poisoning Pigeons in the Park" and my personal favorite-"I Hold You Hand in Mine"! Great stuff! Then in the early to mid 80's the" brilliant" people at Channel 44 got a lousy package of films. It was no fault of Dr. Paul Bearer, but he had to do his best to get through them. One that I vividly remember was an Italian Mobster film posing as a horror film! Then in 1991 I had the distinct pleasure and honor of meeting this local legend at his home in Lake Wales with the hearse in the driveway!! We spent around 3 hours interviewing and talking with him. He was a gracious gentleman and very funny with a dry wit! I want to thank Ed Tucker again for that experience! When Dr. Paul Bearer passed on in 1995 Channel 44 gave him just 30 minutes for a tribute. It should have been at least a 2 hour event, considering that he was on the station for 20 years!! Thank you! David Polk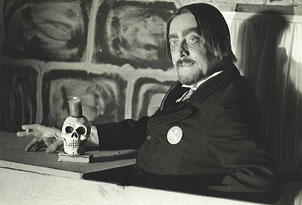 Next is Dan Tuchman, also an ex-resident of Tampa, founder of the North Florida Science Fiction and Fantasy Society and coordinator of the 1991 tribute and presentation that resulted in "The Lost Interview of Dr. Paul Bearer".
The things I remember most about Dr. Paul Bearer were his cheesy sets and his corny lines about the products he made up for the show. I loved his tag line when he was going to start the movies and he would say "now here's a really horrible old movie" and they would cut to the beginning credits! Thanks to Dr. Paul Bearer, I have some wonderful childhood memories of not only some great monster movies but also his pre, during, and post show skits. My favorite memory of Dr. Paul Bearer would have to be the 1991 Creature Feature tribute at the Necronomicon convention. We handled the entire event ourselves and I was the one who actually presented him with the plaque. – Dan Tuchman.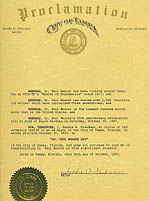 I have to agree with David and Dan, those were some great times and the afternoon I spent with Dick Bennick is something I will never forget. If anyone doubts the long reaching appeal of the Creature Feature program, I only have to remind them of a recent event when several of my friends from college met up in Jacksonville. We had planned a Saturday night out on the town but then one of them saw Dr. Paul Bearer's costume framed on my wall. He grew up in Orlando and immediately recognized what is was from the show. The wave of nostalgia it brought back to him was incredible and sparked a flood of memories. The next thing I knew, we were ordering pizza and watching "Destroy All Monsters"! Thank you Dr. Paul Bearer, you may not be with us any longer but you will never be forgotten!
Editor's note: click the small image of the proclamation at left to see a larger image of the document that declared a "Dr. Paul Bearer" day by the City of Tampa! –N