November 24, 2010
"Sinderella and the Golden Bra" (1964)

Studio: Manson Distributing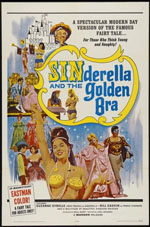 Starring: Suzanne Sybele, Bill Gaskin, David Duffield, Sydney Lassick
Directed by: Loel Minardi and Ronald Terry
Rated: Not Rated
Running Time: 72 min.
Synopsis: A prince tries to find his true love when he goes around town having women try on a golden bra that was left by a mysterious woman who the prince fell in love with at a dance.
REVIEW
Sinderella and the Golden Bra is one of those nudie cuties that came out of the 60's in the vein of The Adventures of Lucky Pierre and Goldilocks and the Three Bares. Although there are plenty of cuties in this film, but there's not enough nudies. Basically for a nudie cutie film, this one is not on the list for must see.The story is basically the tale of Cinderella, just with an adult twist. Instead of the glass slipper you have the golden bra. All the classic characters are represented in it. You have Sinderella, her step mother and evil step sisters, the prince, king, and instead of a fairy godmother there's a fairy godfather. It's pretty much the classic Cinderella tale just with some topless women, but not much.Now for these nudie cuties, you are not looking for quality acting or a great story or good production value, you just want to see some T&A from the classic 1960's. This film does not deliver in that category. Most of the film is filled with useless musical numbers that would fit prefect if it were a kid's movie, but not for a nudie cutie. I wouldn't mind the musical numbers so much if there were more nudity. This one barely has any nudity at all. Just a few topless women in the beginning, then they show some later when the prince is going around the village having women try on the golden bra and in some of these scenes the girls have their back to the camera.The film is also very short at just over an hour, so there's not much to the film and not really any more to say about it. I'll just say if you want to see a good adult version of Cinderella, check out the 1970's soft-core porn Cinderella, it's much better than Sinderella and the Golden Bra. Only thing maybe worth checking out in this film is the little T&A that it has, but I wouldn't even bother, just avoid this movie all together.