December 22, 2010
"The Erotic Adventures of Zorro" (1972)

Studio: Entertainment Ventures (EVI)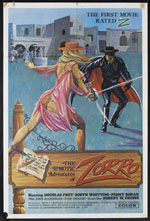 Starring: Douglas Frey, Jacqueline Giroux, Penny Boran, John Alderman
Directed by: Robert Freeman
Rated: X
Running Time: 98 min.
Synopsis: The classic tale of Zorro for an adult audience.
REVIEW
Another well done sexploitation film from the master of the grindhouse, David F. Friedman, who has made several exploitation classics throughout the 60's and 70's. The Erotic Adventures of Zorro is another one of those standout soft-core porn films that is a great representation of 70's porn. This is probably one of Friedman's better offerings in the sexploitation genre.
The film is basically the story of Zorro and how he took on the corrupt leaders of Los Angeles in the early 1800's and gave the city back to the people. Of course this story is mixed with sex and comedy. As the city is trying to tax the everyday workingman too high and taking their women for their own pleasure, Don Diego who is studying in Spain, is called by his father to come back to Los Angeles and help them take the town back. He returns and maps out a plan. He pretends to be a gay aristocrat to get on the good side of the city leaders, but by night he dons a black mask and cape and becomes Zorro and fights off the bad guys. He also seduces some women on the way, too.
As far as sexploitation films go it is really good. There are plenty of beautiful women that strip down to nothing and have some steamy sex scenes. If you want to see a good soft-core porn film from the great era of the 1970's, this is it. Friedman never lets you down and has always entertained, thrilled, and tantalized audiences throughout his filmmaking career.
The film itself has some good points as well. It is shot and put together well and even has a great opening that is almost fairy tale like with a book opening up revealing the titles and cartoon drawings of the main cast. The comedy is funny in some places but really bad in others. The film is kind of like a spoof movie and it also has a Mel Brook's Blazing Saddles vibe to it.
The story is alright and drags in some parts, but this is a sexploitation film and that is the last thing the filmmakers are thinking about is a good moving story. They do try hard to entertain with the story, action, and comedy along with the great sex and nudity. The characters who play the roles are cast well and likable. Douglas Frey does a good job of playing the dual roles of Diego and Zorro and the women that are cast as some of Zorro's love interests are great.
The Erotic Adventures of Zorro is a film to check out if you are looking for a great sexploitation film from the 70's. Just as some of Friedman's other ventures into the genre such as Trader Hornee and The Adult Version of Jekyll and Hide, Zorro is another one to add to that list of Friedman's sexploitation classics.