August 28, 2013
The Monkees 2013 Concert Tour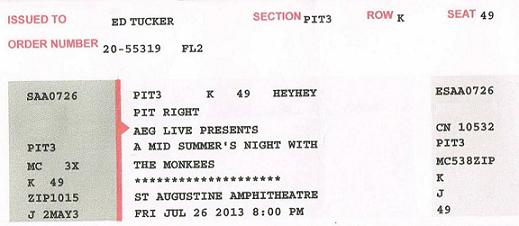 As a longtime fan of the Pre-Fab Four, The Monkees' 2011 concert at the Florida Theater in Jacksonville was a very special night for me since I finally got to meet Mickey Dolenz, Peter Tork, and Davy Jones back stage after the show.  This meeting was made especially memorable with the tragic death of Jones just a mere eight months later.  Like many Monkee fans, I assumed this would be the end of touring for the group so it was more than a pleasant surprise when I heard the news that formerly missing Monkee Michael Nesmith would be joining the other two surviving members on a US tour in 2013.  Nesmith's contributions to the group in recent decades had been limited to a handful of guest appearances on stage, a brief European tour, and a reunion video and album.  While the idea of seeing a Dolenz / Tork Monkee duo perform was one I could take or leave, getting to finally see Papa Nez live and in a Monkees' setting was a proposition I couldn't pass up.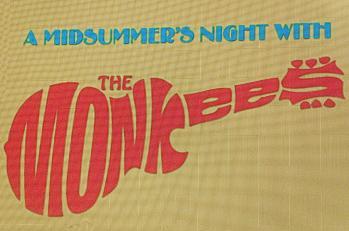 The 2013 tour, titled A Midsummer Night with the Monkees, stopped at three Florida venues in July and two of them were within easy driving distance for me.  The first was my less than preferred locale of the St. Augustine Amphitheater on Friday, July 26 and then Sunday, July 28, at Ruth Eckerd Hall in Clearwater.  The third performance in the middle was in Boca Raton which was just a little too far south to be a pleasant commute.  I made the decision to take in both shows due to the convenience of the Amphitheater and the amenities of REH and was ultimately glad that I did.  Based on past history, there is no guarantee that Nesmith will continue with the group for any extended period of time so I decided to double up while the opportunity presented itself.
My wife Cindy and I traveled the roughly thirty minute drive to the St. Augustine Amphitheater on Friday evening, giving ourselves plenty of time to spare.  The parking situation is woefully inadequate there and once the undersized lot at the site is exceeded, nearby parking becomes increasingly harder to find and more expensive.  Even arriving an hour ahead of the 8:00PM start time, we still ended up in the last parking section of the lot and by the time we began to walk up to the Amphitheater, vehicles were being turned away.
Aside from the parking, my biggest complaint about the Amphitheater is the very nature of its design as an outdoor performance venue.  There are overhead tarps covering most of the seating areas but these really don't do much against anything stronger than a light rain.   July in Florida is filled with almost daily thunder storms so it did not come as much of a surprise that the seats in most of the outlying sections of the Amphitheater remained empty that night.  I certainly kept one eye on the skies for the evening.
After we passed through the ticket check point, Cindy and I decided to kill a few minutes at the souvenir table before we found our seats.  The Amphitheater is one of those venues where once you get seated, especially if you are close to the front like we were, it's best to stay put for the duration unless you want to hike half a mile to the nearest restroom or snack bar.  I have been down on purchasing tour souvenirs in recent years, mainly due to the shoddy quality and outrageous prices, but the Monkee merchandise got the better of me.  Whoever designed the items for this tour was certainly going for a retro theme.  The famous lunch box artwork of their faces was used for several styles of T-shirts and images from vintage concert posters were combined to make a new one.  After much debate, I decided I had spent enough already and passed on the reproduction of Mike Nesmith's signature wool hat.  This was a decision I would come to regret.
After heading inside and passing additional check points on our way to the orchestra pit, Cindy and I finally arrived at our seats.  Once we were settled in I began to realize just how hot it was even though it was almost 8PM and the sun was setting.  Before I had time to ponder this too long, a video show started on the stage featuring some great rare Monkees' tracks set to a collage of their famous romps from the television show and some rare videos.  This latter portion consisted of everything from Kool-Aid commercials, appearances on variety shows, and even the original Scopiotone film Mickey and Davy did for their last single, Oh My My – which I swear I have seen circulating in much better quality than what was presented here.  This served as an excellent ramp up to get the audience ready for the live show.
 While the videos were fun, they went on a bit too long and the audience was more than ready when The Monkees finally took the stage.  They opened this concert tour with their signature staple and first hit, Last Train to Clarksville.  While the chords from this song were still fading, Nesmith launched into one of his early songs from the group's first album, Papa Gene's Blues, and anyone in the audience who had not figured it out already realized what was going to really make this tour special.  While Nesmith seemed a bit more reserved than his partners, he was undoubtedly having a good time.  It's worth noting that Mickey Dolenz and Peter Tork have spent the better part of the last twenty-seven years Monkee-ing around on stage while Nesmith has only joined them for a small fraction of these appearances.  It may take the Infinite Rider a little time to get back into the simian swing of things completely but his performance did not suffer for it.
For the most part, the song selections went in chronological order while carefully sidestepping Davy's numbers.  Both Nesmith and Dolenz sounded fine the entire night but Tork's voice was noticeably strained, especially during some of his slower songs like Early Morning Blues and Greens.  Hopefully this was just an isolated problem but it was still evident at the Ruth Eckerd Hall performance.  Highlights for this show were Michael Nesmith singing his song The Girl That I Knew Somewhere, which Mickey handled lead vocals on for the recorded version, and rare live performances of lessor tunes like No Time, You Told Me, and Tapioca Tundra.  About midway through the show, Mickey and Mike approached the front of the stage and talked about trying to get a Moog Synthesizer for this tour but the size and cost prohibited it.  For the performance of Nesmith's song Daily Nightly, Dolenz sang lead with printed lyrics in hand while Mike imitated the sounds of the Moog.  This was sheer Monkee madness which reminded the audience just what talented performers they are.
The evening was rounded out, much like the 2011 tour, with selections from the group's single theatrical venture, Head, accompanied by scenes from the film.  I was anticipating that Nesmith would take the lead on Davy Jones' solo number Daddy's Song since he was originally slated to sing it in the film and did record a demo.  Instead, this segment was closed out with just the footage of Davy performing the number from the movie.  This is one area that could stand a little improvement, especially if they could take video footage of Jones singing a more group friendly song and accompany it live on stage like the Beach Boys did for their absent members on the recent 50th anniversary tour.
 The show concluded with an audience member being apparently chosen at random to come on stage and sing Daydream Believer which, again, may not have been the best suited tribute to Davy Jones.  This was followed by the apropos closing song What Am I Doing Hanging Round and a brief encore of Pleasant Valley Sunday and Listen to the Band.  This latter song also gave the group a chance to introduce their backing group that included Mickey's sister Coco, Mike's son Christian, and musical director and all around incredible musician Wayne Avers.  By the time the house lights came up, I am sure that both the sweat soaked audience and the humidity challenged performers were happy to head for cooler climates!
The Ruth Eckerd Hall Show on Sunday, July 28 was a more involved proposition but more rewarding as well.  After the three plus hour drive to Clearwater, not counting a stopover at Plant City's Dinosaur World, Cindy and I checked into a hotel close to the venue with about thirty minutes to spare.  We had plans for dinner with uber Monkee fan Lonnie Dohlen after rendezvousing at Andy Lalino's house nearby.  Andy, his wife Sandy and son AJ joined us for dinner at a local Greek restaurant where we caught up on fanboy business.  Afterwards, Andy was kind enough to chauffer us right up to the front entrance of the Hall after incurring the wrath of some volunteer security person.  The night was off to a great start!
 Inside the Hall I checked out the mobbed souvenir area and decided to finally purchase my hat.  Unfortunately by the time I got to the front of the line they were sold out and I was forced to order one online later.  Who knew that Mike's wool cap would be so popular with fans?  This slight disappoint wasn't going to put me off the show though and we decided to head for our seats inside.  As it turned out, even though Lonnie had purchased a different promotional package than we did, he ended up seated one row directly in front of Cindy and me.  When the video show started this time, I could already tell that this was going to be a superior performance to the one in St. Augustine as everything looked and sounded better.
As was to be expected, the Ruth Eckerd Hall show followed a similar but not identical format to the one in St. Augustine.  In addition to the improved sound quality, the band was livelier this night – probably due in no small part to the modern marvel of air conditioning!  The one major difference in the two performances was the omission of the song Daily Nightly from the set list at this show for undisclosed reasons.  It was not replaced with another selection so this concert actually ran a little shorter but it also started earlier, so time wasn't an issue.  Apparently a few shows later in the tour Door into Summer was added as a replacement but no reasoning was ever forthcoming.  On the plus side, the audience member picked to sing Daydream Believer on this night was much better than the one in St. Augustine.
 The concerts for the Monkees' 2013 tour were very enjoyable overall and thankfully Nesmith's contributions to the group were emphasized.  While the loss of Davy Jones is sad, factoring Nesmith into the equation has changed the tone of the shows and breathed some new life into the performances.  Hopefully he will continue with the group and the tours will continue to evolve.  There are still many songs, especially from the last three albums which were completed ignored this time except for Listen to the Band, which would be wonderful to hear live.  While more casual fans will always want to hear the hits, it certainly wouldn't hurt to work some obscure numbers into the act and possibly even some solo songs just to keep things interesting  While the background videos have been a nice touch for years, they are also starting to get stale and could easily be exchanged for other material.  The Monkees may be entering their twilight years but as long as they continue to tour I will line up to see them, although probably not at the St. Augustine Amphitheater!