April 4, 2009
"The Teacher" (1974)

Studio: Crown International Pictures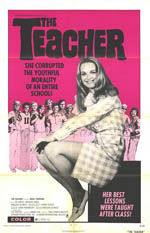 Starring: Angel Tompkins, Jay North, Anthony James
Directed by: Howard Avedis
Rated: R
Running Time: 98 min.
Synopsis: The summer before going to college, a young man has an affair with his former high school teacher and best friend of his mom. He also battles with a stalker of the teacher.
REVIEW
This all right sex drama has its moments. Some likeable characters, a decent story, and some thrilling moments make this film watchable. The movie is about a teenager, Sean, (played by TV's Dennis The Menace, Jay North) who has a crush on his neighbor/teacher and explores a relationship with her over the summer before he goes away to college. Also, the young man is fighting off a stalker of the teacher, Ralph, played by character actor Anthony James.
The film starts off with Ralph, who waits in a hearse that he drives for Diane, the teacher, outside the local high school. Ralph has a shit-eating grin on his face when he sees Diane come out of school. The cheesy theme song for The Teacher plays over this. Ralph follows her back to her house then follows her over to the dock where she takes her boat out and sunbathes topless. Through his binoculars, Ralph spies on her. Sean and Ralph's brother, who come to spy on the teacher as well then interrupts him. Ralph scares the two and winds up making his own brother fall accidentally to his death. Sean witnesses the whole thing and takes off. When police come around questioning Sean, he is afraid to tell them the truth in fear of Ralph coming after him.
During the summer, Diane frits with Sean, inviting him over to her house. He finally goes over to help her with something, but then she helps herself to Sean. First the guy is shy and fears he's going to get into trouble, but then he can't resist. The two of them start to have an affair. Sean's mother who is good friends with Diane doesn't suspect the relationship between the two. Others in town are talking about them behind their back and spreading gossip. Also, Ralph pops in now and again and stalks both of them. There's a funny scene where Ralph puts on a wet suit and spies on them when the two are having sex on her boat.
Most of the story is all right and the actors aren't that bad and make the characters likeable. There are some more thrilling moments at the climax of the film when Ralph confronts Sean and Diane. One thing from the title you think the film takes place in a school with the teacher seducing classmates, but none of the film takes place at a school at all. It starts off the last day of school and Sean is all ready 18 and graduated from high school. The film mainly just takes place during the summer and Diane is lonely because her husband left her and she takes comfort in Sean's company.
A decent sex/drama/action/thriller grindhouse film that is better than much of the other films of it's kind.