January 28, 2013
Thunderbirds are Gone! A Tribute to Gerry Anderson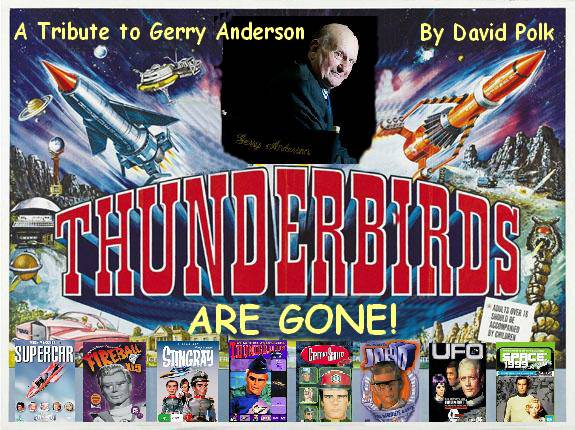 An introduction by ED Tucker: One of my earliest childhood memories is waking up on Saturday mornings, well in advance of my exhausted parents, and flipping on the family 26 inch console television set in the living room. These were golden hours between the previous evening's Night Owl Theater and the start of that day's network children's programming. It was during this time that I first spotted a bizarre show with puppets that looked like people and got into all sorts of adventures. I can still vividly recall certain scenes from episodes of a series I would only discover years later was called Thunderbirds. That was my closest call with first run Super Marionation but several years later I remember puzzling over the plots of a series called UFO. Even if I couldn't figure out was going on, I knew it had some cool spaceships. Then a series with a little more fiction than science popped up and I was instantly hooked on Space: 1999! I was an adult before I connected the dots and realized these shows had all come from the creative genius of one man, Gerry Anderson, but I took great delight in discovering the wealth of his material I had missed out on. The love of Gerry Anderson was one of many factors that bonded me in friendship with Tampa native David Polk, an ever bigger Anderson fan than I am, and it is to him that this Popretrorama column is deferred.
I've been asked to write a tribute about a man who was one of my childhood "Heroes of Imagination", Gerry Anderson! Gerry Anderson sadly passed away on December 26, 2012 of dementia at the age of 83. I grew up watching Anderson's shows. The three that I remember seeing as a child were The Thunderbirds, UFO and Space: 1999. I first saw The Thunderbirds on our local NBC affiliate, WFLA Channel 8 around 1970-71 on Saturday mornings back when Saturday Morning TV meant something. A couple of years later, I saw UFO on our CBS affiliate WTVT Channel 13 in the summer of 1973 while I was staying with my grandmother for the summer. Of the three shows, my all time favorite was Space: 1999 which premiered on Channel 8 on September 8, 1975. The second season was shown on our UHF channel 44 on Saturday afternoons.
The "King of the Puppets" started with his first series The Adventures of Twizzle, of which, sadly, only one episode still exists! Next was Torchy the Battery Boy which Anderson produced the first series of and then Roberta Leigh produced the second. Roberta Leigh is also known as the creator of the puppet series Space Patrol. It was not until 1961's Supercar that "Super Marionation" came into play. The dialogue finally was synchronized with the lip movement of the puppets and this process continued with Fireball XL5, Stingray and, most famously, The Thunderbirds. Thunderbirds proved so popular that it spawned two feature films Thunderbirds Are Go and Thunderbird 6.
In 1967 Anderson started a new series called Captain Scarlet and the Mysterions that used the same kind of technology but the puppet heads were exactly proportioned to the rest of the body. A "Barbie" puppet if you will! Anderson followed Scarlet with two other series that used the same kind of puppets, Joe 90 and The Secret Service. Then, in 1969, Anderson finally realized his dream and filmed his first true live action sci-fi feature film, Doppelganger (aka Journey to the Far Side of the Sun) about Earth's first flight to an identical sister planet with strange results. It was well received enough to launch his first live action TV series entitled UFO.
Also in 1969, came his next series, the more down to Earth adventures of The Protectors starring The Man from UNCLE's Robert Vaughn and future Space: 1999 cast member Tony Anholt. Next was one of his crowning achievements, Space: 1999 starring Mission: Impossible couple Martin Landau and Barbara Bain. Between the first and second seasons of 1999, NBC commissioned a story that had plausible scientific merit about space travel and black holes called Day After Tomorrow-Into Infinity. It utilized models and sets from the 1999 series and was well received. Space: 1999 was scheduled for a third season, but the entire budget was diverted to an ill fated feature film attempt to Raise the Titanic. The film sunk just like the real ship and did not make its money back.
From 1976-1982, times were lean for Anderson until he teamed up with Christopher Burr in 1983 to produce another puppet series for television called Terrahawks, this time using a new form of glove puppet similar to the Muppets. Terrahawks lasted for 3 seasons. In 1987, Anderson returned with a crude stop motion clay animation series called Dick Spanner that ran for twenty two episodes. In 1994, Anderson's last live action series Space Precinct, about a futuristic police force, premiered starring Ted Shackleford of Knots Landing. Next came a better stop motion animated series called Lavender Castle. Anderson's last ever series, a CGI reimaging of the Captain Scarlet series from the 60s, premiered in 2005. He would continue to work on various uncompleted projects until it was publicly announced in June of 2012 that he was suffering from Alzheimer's disease. In less than six months time, a man who had entertained multiple generations of children and adults alike with his unique brand of science fiction fantasy was gone.
Gerry Anderson was a true innovator of entertainment and will be sorely missed!