February 21, 2012
ZAAT's All Folks!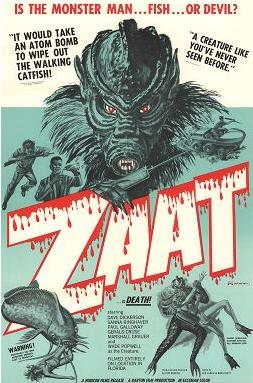 If that title sounds a little more like an ending statement than an opening one, it's because that is exactly what it was intended to be. The February 21, 2012 home video release of the film ZAAT on both DVD and Blu-Ray from Film Chest / Synergy represents the conclusion of a twelve year odyssey of mine to bring this film back to the public. Like most quests, this could be viewed as a fool's errand by some but it was a personal goal of mine due to the love of a monster and the enjoyment of being scared in a darkened movie theater as a child.
ZAAT started life in Jacksonville, Florida in 1970 when Barton Films, Inc., a company best known for producing industrial and promotional films, decided to the time was right to branch out into feature films. Based on current trends and budgetary considerations, director Don Barton and his crew decided their safest bet would be a creature feature. Writers Ron Kivett and Lee Larew concocted a rather traditional tale of a mad scientist who turns himself into a monster and seeks revenge on the colleagues who have wronged him and society in general. That basic plot was, however, about as traditional as ZAAT as ever got. This particular scientist bases much of his research on the walking catfish, a then popular Florida oddity that was actually a genuine matter of concern with wildlife officials at the time. The resulting half man / half catfish mutant hybrid that the psycho scientist changes himself into looks like the Creature from the Black Lagoon's backwoods cousin after a three day bender and gets what is possibly more screen time than any monster in cinematic history.
The finished film was given a PG rating for mild violence and looked for all the world like a 1950's B-movie shot in color. The bloodletting was minimal, there was very little profanity, and no nudity – all items which were generally expected in similar products of the day. After being unable to land a national distribution deal, Barton turned to brothers Harry and Belton Clark of Clark Distributors in Jacksonville to get the film out to a paying audience. The Clark brothers were well respected Southern legends in the distribution business and even though they were technically a regional operation, they were still able to get the film booked throughout most of the United States and a few foreign territories. This was a slow process due to a limited number of prints but the film did surprisingly good box office, particularly at matinee screenings, thanks in large part to an incredible advertising campaign that promised more than was actually delivered on the screen.
After several years of distribution, the Clarks felt they had done all they could with the film through their channels. It was around this time that a company called Capitol Films took notice of the picture and offered to pick it up for a national release. They were putting together a horror movie package and insisted on changing the film's title to The Blood Waters of Dr. Z. This new moniker had almost nothing to do with the story but Capitol claimed that horror films needed the word Blood in the title to sell. With the new name came a new and interesting, although ultimately inferior, advertising campaign that was to include everything from standard posters to T-shirts and bumper stickers. The existing 35MM prints of the film were altered to incorporate the new title and new ones were struck to allow for more simultaneous play dates. Everything was in place for a nationwide release when disaster struck and Capitol Films, who had apparently overextended their credit on the project, was forced into bankruptcy. The rights to film reverted back to Barton Films but all the prints were tied up by the bankruptcy, quite literally locked in a warehouse somewhere in California. The legal costs of recovering the prints seemed to outweigh the potential for additional revenues from the film so Barton and company chalked this up to experience, abandoned plans for future features, and went back to doing the industrial films they did so well.
One of the many areas the Clarks got ZAAT booked into multiple times was the little town of Ocala, Florida, about one hundred miles south of Jacksonville. One Saturday morning when I was around six years old, I noticed an advertisement for the film in our local newspaper and begged my parents to take me to see it. Like most six year old boys, I was infatuated with monsters, especially the kind I watched regularly on programs like Creature Feature. My mother took me to see the film that day and I had no idea what a life changing event this would actually be. I am not ashamed to admit that the film actually did scare me at the time. Even if the monster wasn't doing anything particularly terrifying on screen, to a young child there was always the nerve wracking possibility that he might. These were more innocent times when even a movie this mild could still pack in a few frights.
ZAAT was packed away in my trunk of memories after that and since it never turned up on television I quickly forgot about it. About fifteen years later when I had made the one hundred mile trek north to finish my education at the University of North Florida, I was paired with a roommate on campus from nearby Green Cove Springs which had served as the small town the creature terrorizes in the movie. Once my roommate Phil realized what a passion I had for B-movies, he didn't hesitate to tell me all about one that was filmed in his own back yard and he even remembered both of the titles it had gone under.
This was 1988 and the home video boom was in full swing thanks to VHS tapes but it still took me quite a while to locate a copy of the film under yet another title, Attack of the Swamp Creatures. It was fun to get to see ZAAT again even if the transfer on the tape was murky and difficult to follow in spots. Afterwards I ran back through the opening credits and copied down as much data on the cast and crew as I could in the hopes that some of them might still be in the area. A thorough search of the phone book turned up nothing and in the days before the Internet this was the only information I had easy access to. Once again I shelved ZAATin the memory file.
It would only be eleven years this time before ZAAT blipped on my radar again. This time it was under the alternate Blood Waters title and on the Mystery Science Theater 3000 television series. On Saturday morning, May 2nd, 1999, I tuned in to watch the film again and see if it looked any better than when I had seen it on video years ago. It did but not by my much plus approximately thirty minutes had been cut from it and the show's character talked over it the entire time. I did, however, notice that the opening credits were completely different on this version and nothing matched the video tape I had seen earlier. Even though the Internet was around by this time, I still resorted to the handy phone book and later that very same day, I found myself at the home of Wade Popwell, who played the monster in the film, watching the tape I had recorded earlier of the broadcast with him and his family!
Wade was kind enough to fill me in on a lot of the details behind the making of the film but he didn't know much about what had happened after that. What he did know was that director Don Barton was still in Jacksonville and after a little coordinating, I arranged a lunch with him so that he could sign a poster of the film I had recently acquired. It was that day that the first leg of my quest ended when I was able to finally learn about all the heartbreak surrounding the film, including why it had been so difficult to find, and a new chapter began when the seeds were sown to save it. I think that Don realized for the first time that day what an impact his film had all those years ago and how the children that had watched it then were eager to see it again as adults.
This was the birth of the ZAAT2000 project that lead to us recovering the original negative of the film, getting it in booked in theaters for several thirtieth anniversary screenings, and even creating a new transfer for a very limited release on home video. Through this work I was able to meet almost all of the surviving participants of the film and I learned what a talented and interesting group of people they were. While some of them did continue in the film industry, most went on to more mundane jobs to make a living after their brief moment in the limelight for ZAAT. Barton Films survived with Don's sons John and Mike taking over the family business after he moved into a career in marketing. We had a lot of fun reintroducing the monster to old and new audiences alike but we realized that the film still deserved a quality national release.
During the years that followed we kept busy with several successful showings at theaters both locally and even out of state. We contracted for the release of the Mystery Science Theater version of the film on DVD and multiple play dates of the original film on the Turner Classic Movies network. Our website was overhauled to work into our long term plans beyond celebrating the anniversaries of the movie and we even managed to create some new merchandise to be sold in our online store. We had just about everything a low budget film from several decades past could possible ask for except the elusive home video version that we were asked about almost weekly via E-mail.
Much of what I have learned in life has come from diving in headb first and figuring it out as I went along. Home video distribution was one of those experiences. By the time the good folks at Film Chest / Synergy came along I was already a veteran of multiple negotiations for deals that never materialized due to one missing factor or another. It was a monumental relief to finally have the planets align and close a distribution deal that contained all of the elements we considered critical for success. Even then, it still seemed almost too good to be true until about a year later when I was holding the finished product in my hand.
The DVD/Blu-Ray combo pack contains two brand new high definition transfers of the film that look better than anything we could have possibly imagined. A comparison is included on each disc between the new transfers and the one we did in 2000. While there is noticeable improvement between these two versions, the difference between these and the earlier unauthorized editions is like night and day. Also included for the first time anywhere is a feature length commentary with Don Barton, writer and special effects coordinator Ron Kivett, actor Paul Galloway who played the Sheriff and yours truly handling the moderator duties. Sadly Wade Popwell had passed away by the time this commentary was recorded but he is represented through a separate radio interview that I also participated in and this set is dedicated to his memory. There are also the anticipated trailers, an extensive stills gallery of behind the scenes photos and promotional materials, and rare outtake footage from the film. The only element conspicuously absent is a documentary on the making of ZAATbut it just wasn't in the budget. Who knows, it may still happen one day.
So the crazy mixed up journey of mine to save a film that frightened my in theaters when I was a child has finally come to a very satisfying conclusion and along the way a lot of people got the recognition and respect they were long overdue. Can a Fanboy truly ask for much more than that? While this second chapter in the ZAAT saga is now concluded, a third is already being written. It's too soon to tell what this one will contain and considering what went before it, I shudder to imagine what the future holds for the film that wouldn't die and the bad monster that couldn't be kept down. ZAAT sequel anyone?